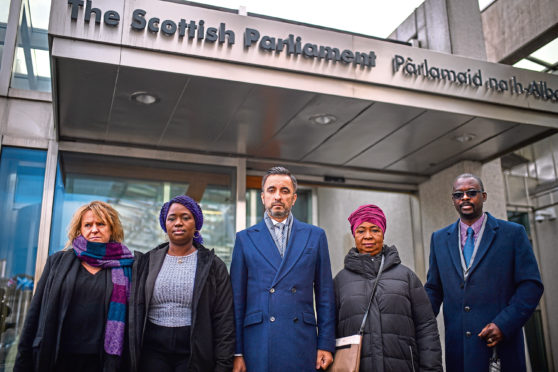 It's unlikely Theresa May ever spared a thought for Kirkcaldy.
But when she began her ill-fated tenure at 10 Downing Street she said something that will echo horribly in at least one Kirkcaldy household: "If you're black, you're treated more harshly by the criminal justice system than if you're white."
Sheku Bayoh was 31 years old when he died in police custody after being restrained by officers in 2015.
Officers responding to a report of a dangerously out-of-control man descended en masse, with six officers using batons and CS spray to knock him to the ground and subdue him.
He died in custody some 90 minutes later after sustaining a catalogue of injuries, including head wounds, a fractured rib and facial injuries.
Blood vessels in his eyes burst, something consistent with suffocation.
Drugs were found in his system and officers believed he was carrying a knife.
In the immediate aftermath of his death, the Scottish Police Federation said he had stamped upon a "petite" female police officer.
Yet a video uncovered last year raised doubts about this version of events.
The clip shows their van screeching to a halt before officers are seen piling on to Mr Bayoh without any efforts to calm the situation.
The level of physicality involved, to a layman, seems alarmingly disproportionate.
Mr Bayoh's family were told this week none of the officers involved in his death will face criminal charges because of lack of evidence.
The Scottish Government has now ordered a public inquiry into his death to look at whether his race played any part in the tragedy.
Black men do not, as a rule, thrive under the UK's justice system. The myths of black criminality and immigrant crime persist.
A report prepared by David Lammy last year found that while black people account for just 3% of the country's population, they make up 12% of the prison population.
A year earlier a report also found police in England and Wales were more likely to use force against black suspects.
It would be nice to think Scotland is colour blind but it would be naive to do so.
Police on the frontline face difficult and dangerous situations every day. It cannot be the first time Scottish police have responded to calls of an individual causing fear and alarm.
One would expect officers to have some training in defusing potentially violent situations without the use of force.
Hopefully, for Mr Bayoh's family, for the wider fabric of Scottish society, the public inquiry will find out the truth about what happened in Templehall that May morning, and why.
Nobody denies Mr Bayoh was behaving in an alarmingly erratic manner.
Maybe he was completely out of control.
Maybe officers really did think he was going to murder someone. Maybe police always respond to reports of people, whatever colour, carrying knives with such force.
Maybe in these days of terrorism and lunacy officers cannot afford a second's hesitation.
But maybe, just maybe, if Sheku Bayoh was white he would still be alive.
Heckle not so Teckle
Labour leader Jeremy Corbyn rolled into Dundee on Thursday as his general election campaign swept north of the border.
His meeting at the Queen's Hotel was interrupted by Dundee pro-independence campaigner Bob Costello, a man who left the SNP as he does not believe it is suitably committed to independence and once suggested the Manchester Arena bombing may have been carried out by an "MI6 asset".
Mr Costello is clearly a man of deeply-held convictions. But hecklers often do more harm than good.
In the end, they just add to the white noise surrounding this election.
Few voters are likely to have their minds changed by the actions of these troublemakers. In fact, more often than not, they make the targets of their ire appear more human, and capable, than they otherwise would.
What goes up…
Real Christmas trees are always a gamble. The year my parents put up a tree only to realise, as the room heated up, a dog had already marked out its territory upon the trunk remains a fondly pungent memory in my family.
Dundee City Council even had to send back its tree this week after realising the one delivered to them on Monday was brown in many places where it really should have been green.
It's not the first time the council has put up a tree only to take it down almost as fast.
But the local authority was quite right to demand more foliage for its buck.
When it comes to the public purse, all improper trees are theft.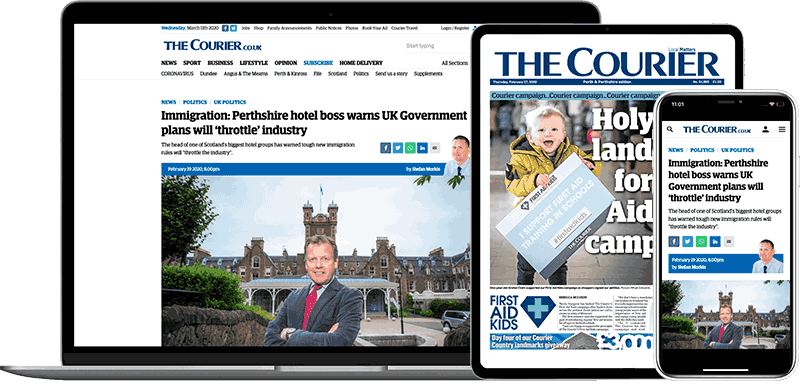 Help support quality local journalism … become a digital subscriber to The Courier
For as little as £5.99 a month you can access all of our content, including Premium articles.
Subscribe