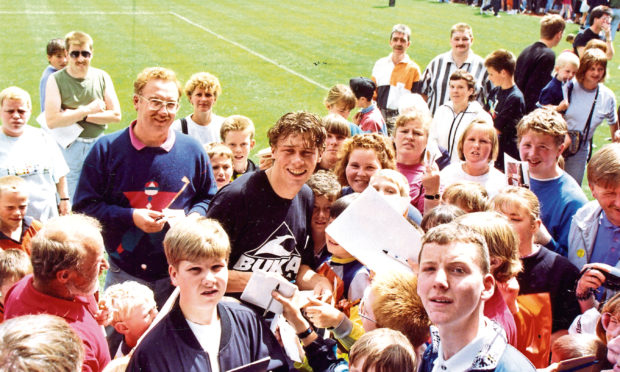 Former Scotland star Duncan Ferguson has claimed the root of his frequent injury problems was a bar brawl in Dundee as an 18-year-old.
Ferguson, who attracted a British record transfer fee when he moved from Dundee United to Rangers in 1993, was blighted by injuries throughout his career.
Despite playing for 26 years, he managed fewer than 500 senior appearances.
He has now revealed a broken toe suffered in the 1989 fight was ultimately to blame.
The Stirling-born striker, 47, is now a coach with Everton and speaking to the club's internal channel Toffee TV, he said: "The first injury I ever had was when I broke my big toe.
"I broke it in a fight in a pub called The Rock in Menzieshill in Dundee.
"It never got fixed and to this day I think everything came from that big toe and that fight in The Rock in Menzieshill in Dundee, when I was 18."
The injury ended his season and hit Scotland's World Cup '94 qualification as, just a month after playing brilliantly against World Champions Germany, he missed a crucial qualifier against Portugal which ended in a 5-0 defeat.
In the rare interview, Ferguson also opened up on his time in prison and said he should never have been sent there.
He became the first and only professional player in Britain to be jailed for an on-field offence after he headbutted Raith Rovers defender John McStay, during a match at Ibrox in 1994.
The following year he was convicted of assault at Glasgow Sheriff Court and sentenced to three months in prison.
He spent 44 days in the city's Barlinnie prison before being released.
Ferguson described the headbutt as "nothing" and claimed he should not have been made an example of.
He was jailed only five months after winning the FA Cup with his new club Everton and the 47-year-old said letters from the Merseyside club's fans helped him get through his time locked up.
Ferguson said he grew a beard at the time as he wanted to look "tough" during his stint in the notorious Glasgow jail.
He added: "It made me look tough. When you're going to one of they hotels up there you've got to look tough."
Ferguson, who is now a coach at Everton, also said his hardman reputation was unfair.
He said: "You get a reputation and you can't shake it off. It follows you around.
"I don't see myself as that person. I see myself as the person I see off the field and I try to give as much back as I possibly can to the city because it's gave me so much."
Ferguson began his career with Dundee United, before moving to Rangers for £4 million, in 1993.
He arrived at Everton in 1994 and won an FA Cup medal the following year when they beat Manchester United 1-0.