First minister Nicola Sturgeon has been urged to intervene to help NHS Tayside breast cancer patients who were given lower than standard chemotherapy doses find answers over their care.
Around 200 individuals were given the lower level between December 2016 and April this year in a bid to reduce harmful side effects. A Scottish Government-commissioned review later said the treatment resulted in an increased risk of their cancer recurring.
Ms Sturgeon was challenged by Mid Scotland and Fife MSP Liz Smith over the issue last month but the SNP leader drew ire from patients and families after suggesting assurances "have already been provided".
The Courier has repeatedly highlighted concerns raised by experts over the veracity of findings in a series of Scottish Government-commissioned reviews into the treatment.
Ms Smith met patients and families following the first minister's response and this week wrote to Ms Sturgeon to clarify that people felt "they had not been provided with the necessary assurances".
The Perthshire MSP called on Ms Sturgeon to help track down answers on what clinical evidence was put forward to justify lowering the dose and specifically which individuals signed off on the decision.
She said patients who complained had so far received an email from NHS Tayside medical director Peter Stonebridge on October 30, which confirmed only that the call was made by a panel of "a surgeon, an oncologist and a radiologist".
Ms Smith asked what discussions had taken place between Healthcare Improvement Scotland and NHS Tayside about current clinical opinion on treatment of breast cancer.
She said the matter was "a very emotive issue as well of one of genuine clinical concern" and pressed the first minister for a response "at the earliest convenience" given two patients she met had already seen their cancer return.
Perth-based campaigner Lee Dennis, founder of the NHS Tayside Cancer Care Support Group, has offered to meet the first minister in person to outline the concerns of patients and families.
She said: "It is disappointing that after many months, patients and families are stilling asking for solid foundational evidence and honest answers. Many of us feel we have been patronised, dismissed and – in some instances – lied to.
"During cancer diagnosis and treatment, a person is at an extremely vulnerable point in their life. I don't think any of us expected to have to deal with the issues we've seen over the past seven months. It is frustrating and demoralising but we are determined to have our questions answered honestly.
"The key issue is that we haven't been given credible assurances. We were not advised of our treatment differences. NHS Tayside did not make their policy clear. We have not yet seen any solid evidence which supports the clinical decisions made here.
"As an individual affected by this, I would be most interested to know what Ms Sturgeon knows that has set her mind at ease on our behalf."
An action group set up to implement recommendations put forward following the reviews met for the first time yesterday and ministers have insisted all points should be "taken forward thoroughly".
The meetings are not open to the public or the media and minutes will not be available until after the next meeting is held in January.
A Scottish Government spokesman said: "This was obviously very distressing for patients and we sympathise with those involved.
"We have been assured all women with breast cancer in Tayside will receive the same quality of care as any other patient in Scotland."
He added: "Any patient who remains concerned and has questions about their specific treatment should absolutely expect to have these addressed, which is why we have written to NHS Tayside to ask they ensure these patients are properly responded to."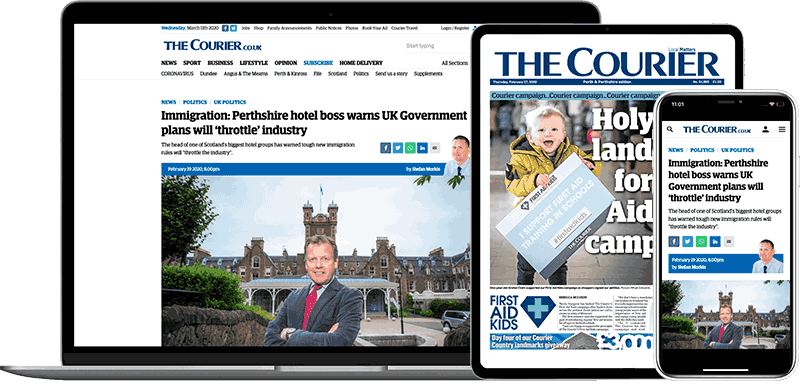 Help support quality local journalism … become a digital subscriber to The Courier
For as little as £5.99 a month you can access all of our content, including Premium articles.
Subscribe