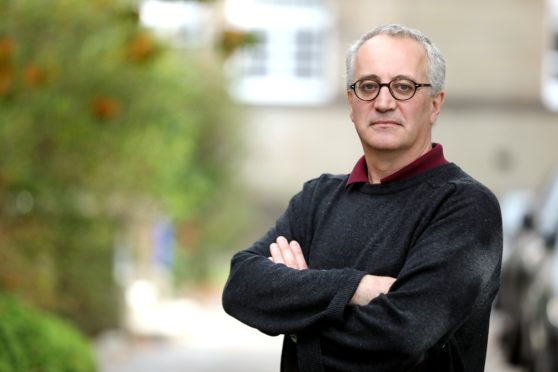 Dundee University will be "tarnished" unless it discloses the findings of an investigation into its former principal, a senior union official has claimed.
Dr Carlo Morelli, University and College Union (UCU) Scotland president, said the departure of Professor Andrew Atherton as principal and vice-chancellor of Dundee University had dismayed staff at the university.
Professor Atherton officially resigned earlier this month having been suspended from his role in mid-September following a dispute over rent payments.
It later emerged member of staff had also made complaints of bullying.
Professor Atherton was paid six months' salary in lieu of notice following his departure,  a sum which came to almost £70,000 after tax.
Dr Morelli said: "Members of UCU continue to be dismayed at the latest revelations surrounding Dundee University principal Professor Andrew Atherton.
"Profesor Atherton's resignation and £70,000 payout raises more questions than it answers.
"While the university claim this is limited to his contractual entitlement, it is only if he is allowed to resign, rather than having the complaints leading to his suspension from office being heard in full."
Dr Morelli said Professor Atherton departure contrasts with the treatment given to  Bamidele Chika Agbakuribe,  a blind Nigerian student whose studies were terminated by the university due to slow academic progress.
Mr Agbakuribe claimed the university had treated him unfairly but his complaint was not upheld by the university, which maintains it offered extensive support to the 37-year-old father-of-four.
Dr Morelli said: "While Professor Atherton was awarded a settlement in less than nine days of the story becoming public, Bamidele has waited over nine months and still no one in the university's senior management will meet with him to discuss his complaints of racism and disability discrimination.
"Until there is openness and a genuine desire to resolve the problems identified as 'bullying' by Professor Atherton's dismissal, the University will continue to be tarnished by concerns over its inadequate governance."
A spokesman for Dundee University said they are not reviewing the decision to dismiss Mr Agbakuribe's case.
The spokesman added the disciplinary process had ended with Professor Atherton's resignation and details would remain confidential.
Meanwhile both Dundee and St Andrews universities say they will try to minimise the impact of strike action by UCU members next week.
Up to 43,000 members of the union at 60 UK universities will walk out from next Monday, disrupting lectures in the run-up to the Christmas break, in disputes over pay, pensions and conditions.
A St Andrews University spokeswoman said: "Students should not be penalised because of this national dispute.
"We will take all possible steps to avoid or minimise disruption to classes and coursework, and we hope that our staff will exercise their rights in ways which reflect their deep commitment to our student community.
"We've published detailed guidance for our students and staff and have set up a strike helpdesk within our Advice and Support Centre."
A Dundee University spokesman added: "This is primarily a national dispute around pensions and pay, which can only be resolved through negotiation at a national level.
"We are disappointed that the University and College Union (UCU) union has chosen a course of strike action.
"Industrial action will have inevitable consequences for some students although we will do everything we can to mitigate the effects and ensure there is as little disruption to their studies as possible."