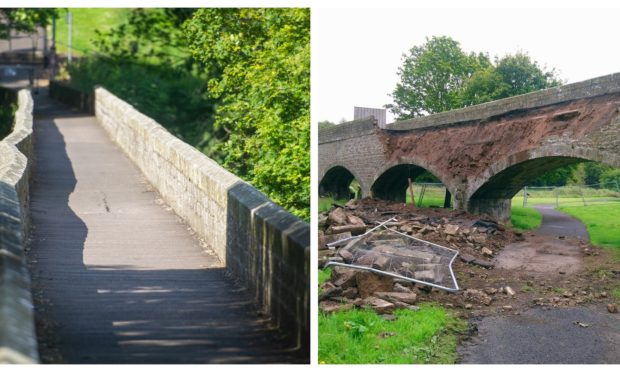 A 170-year-old Dundee footbridge which collapsed during heavy rain earlier this year will be rebuilt in the spring, according to the council.
Finlathen Bridge, one of the main pedestrian routes between the communities of Fintry and Linlathen, has been out-of-action since the incident in July.
Council workers have been investigating the cause and ttrying to figure out its future and have now confirmed it will be rebuilt to the same original design.
Part of the existing bridge, including a leaning section of the parapet wall, will be torn down in the next few weeks due to safety concerns.
Ron Neave from Fintry Community Council welcomed the update but said he was still fearful that further structural issues could be found.
He said: "In just the past few weeks the tarpaulin that covered the collapsed section was torn off.
"I believe this was vandalism and may have weakened the structure further from all the subsequent heavy rain.
"We were told just recently that there was no update so I wonder if the council has decided to take action after the vandalism.
"I do think there is a chance that because it's so old, there could be further cracks found within it. That's my main fear. I have also been worried about people walking or cycling underneath it."
The aqueduct collapsed on July 19 this year following a spell of prolonged heavy rain, just a few weeks after it was closed.
Safety barriers had been erected after the walls began to bulge at one side.
A spokesperson for Dundee City Council said: "In the next few weeks engineers will de-construct a section of the bridge including the parapet wall which is currently leaning.
"That, along with the section that collapsed will be re-built in spring next year as the lime mortar that has to be used is not suitable for low temperatures.
"The appearance of the new constructed bridge will be the same as it was before.
"Meanwhile we are continuing to keep movement at the bridge under review."
Built in 1846, the 500ft long bridge was originally constructed by the Dundee Water Company to carry the first water pipeline from Monikie over the Dighty valley to Dundee.