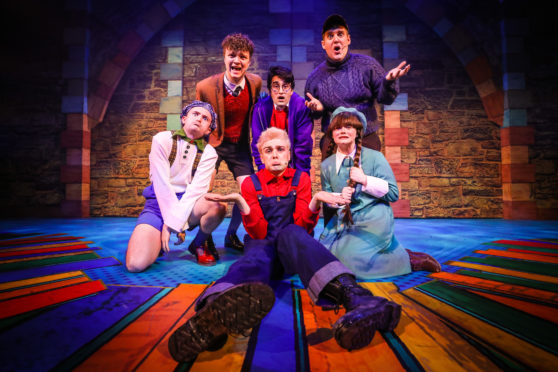 Classic comic Oor Wullie has been transformed from page to stage in a brand new musical.
The adventures of the spikey haired scallywag are brought to life from tonight at Dundee Rep alongside his pals Fat Boab, Soapy Soutar, Wee Eck and the rest of the gang.
Two new characters join the Auchenshoogle gang for the production.
One, Dudley, is named in honour of illustrator Dudley D Watkins, who helped create Wullie in 1936 and the other is called Wahid,.
Actor Martin Quinn star as Scotland's favourite comic scamp.
He said: "Initially it was quite daunting, seeing everyone used to Oor Wullie as a one page adventure, whereas we're trying to breathe life into it as a full scale musical.
"But we've got such a great script and team on the show, that side is all taken care of.
"I'm just looking forward to channelling my inner "cheeky chappy."
Trainspotting star Archie Louise Ross will play PC Murdoch, while Grant McIntyre, Bailey Newsome and Dan Buckley will play Wee Eck, Soapy Soutar and Fat Boab.
Oor Wullie's popularity reached new heights this summer with the the Archie Foundation's Bucket Trail which saw colourful sculptures dotted across Scotland and raised £1.3 million for children's hospital charities.
The production helps celebrate the Rep's 80th anniversary, with Oor Wullie celebrating its anniversary in 2016.
Oor Wullie is at Dundee Rep from November 23 to January 5 before the gang tours Glasgow, Edinburgh, Ayr, Inverness, Stirling, Aberdeen, Kirkcaldy and Greenock.