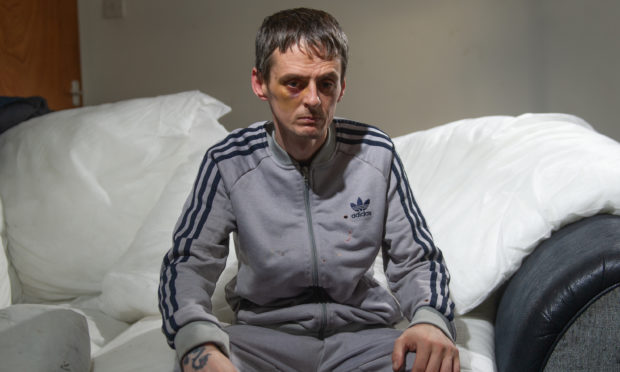 Two former drug addicts who robbed a student and threw liquid at her face in Dundee city centre have been jailed.
John Hutton and Stacey Boyd, both aged 32, attacked their victim as she walked home alone in the early hours of April 23, leaving her too scared to go out alone following her ordeal.
Sheriff Alastair Carmichael said the assault with the liquid came at a time when there had been media coverage of acid attacks and was designed to "distract, disorientate, intimidate and terrify".
He added: "This was in my view a shocking form of assault and robbery.
"You committed this crime at around 1am. You targeted a young woman who was walking alone at the time.
"Citizens of Dundee are entitled to walk the streets at any time without being robbed. Your conduct is unacceptable and unwanted in Dundee."
Hutton, of Strathmore Road, and Boyd, a prisoner at Edinburgh, admitted assaulting the woman on Ward Road, throwing an unidentified liquid in her face and robbing her of a rucksack containing headphones, perfume, keys and a key ring.
An original charge said the pair told the victim the liquid was acid but this was later removed from the charge as the pair said they had no recollection of saying it.
Dundee Sheriff Court heard that on the evening in question the student had handed in university coursework and attended an art exhibition, then went for drinks at a friend's house in Commercial Street before heading home.
She was then pounced on by Boyd and Hutton, who were looking for ways to obtain money for drugs.
Hutton was under the influence of crack cocaine at the time, the court was told.
The duo are no longer together and are said to have addressed their drug addictions since the incident.
Solicitor Anne Duffy, representing Boyd, said: "She has a stable tenancy and a support network, and I would submit that the risk of further harm in the future is diminished.
"The offence was not a pleasant one but the victim did not sustain any injuries."
Scott Norrie, advocating for Hutton, said his client was ashamed of his behaviour, adding: "He has expressed empathy towards the complainer and accepts responsibility."
Boyd was jailed for 14 months while Hutton will serve 31 months, which includes four months for a previous  failure to appear in court.