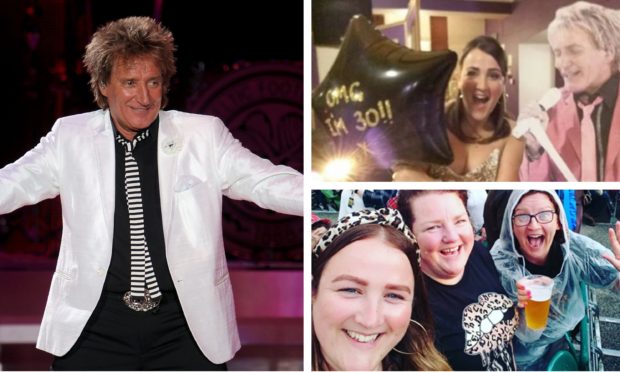 A Dundee woman is campaigning to set up a "dream" encounter with Sir Rod Stewart – and have the superstar create her next tattoo.
Superfan Amy Campbell is hoping to meet the singer around his P&J Live gig in Aberdeen this December so she can have him autograph her arm – before getting it permanently inked on to her body.
The mum-of-two is Sir Rod Stewart daft and even named her lurcher dog Rod after the man himself.
And the veterinary nurse said it would be only her second tattoo; with the other being a wedding ring artwork.
Mrs Campbell said: "It has always been a dream to meet him. I just kind of came up with the idea to get an autograph, something I can keep forever.
"Another lady who did the same thing said it took her quite a long time but I have got nothing to lose.
"This is just a random idea. I've been tweeting him every day with a line from one of his songs and I'm trying to get everyone to re-tweet.
Rod Stewart to Dundee? The firm behind the Slessor Gardens gigs hasn't ruled it out!
"I just started a couple of weeks ago and gave it a bash. My pals have been sharing it."
@rodstewart I'm coming to see you in Aberdeen, for the 2nd time this year(6th time). I absolutely adore you, it would absolutely make my life complete if you could meet me and autograph my arm so I can have it tattooed?! Make a wee lassie fae Dundees dream come true!!!!!

— Amy❤️SirRod (@Amydollvn) November 18, 2019
Mrs Campbell has been obsessed with Sir Rod's music since the age of 10 and said the December gig in Aberdeen will be the sixth time she's seen him live.
She added: "It would just be the dream, just five minutes of his time for a picture and an autograph. That would be amazing.
PICTURES: Rodmania…Here's what happened when Sir Rod Stewart visited Dundee in 1974
"My family all think I'm mad. The kids get forced to listen to him in the house. They do really like his music and my husband quite likes him as well."
In 2017 Mrs Campbell started an online petition to persuade the Maggie May singer to play at the newly-opened Slessor Gardens in Dundee. The star is not believed to have played in the City of Discovery since the 1970s.
However the gig never came to fruition with Sir Rod then going on to announce two 2019 gigs in Aberdeen.