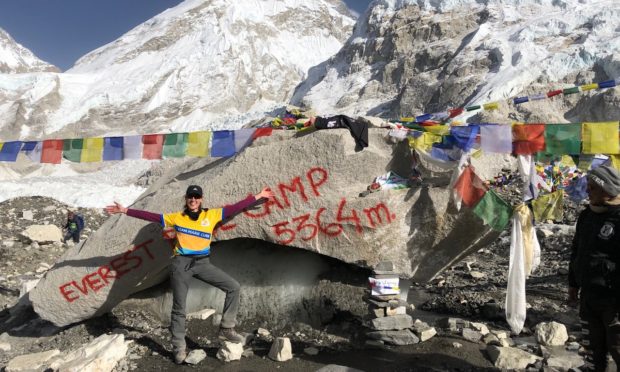 A Broughty Ferry woman is feeling "on top of the world" after leading a charity expedition to the Everest base camp in Nepal.
Marie Curie patron Petra McMillan and her team of 26 people from across the UK raised £66,594 by trekking to the foot of the world's tallest mountain.
Thanks to their efforts, families facing terminal illness in the UK will receive 3,330 hours of care at home at the end of life this Christmas.
Tragically, the group – who are aged 27 to 74 and drawn from Inverness to Poole in Dorset – began their challenge on a sombre note following the death of fellow Marie Curie trekker Kellinu Portelli, 54, just days earlier.
Father-of-two Mr Portelli, from Cardiff, was found dead in his bed the night after reaching base camp and is believed to have succumbed to severe altitude sickness.
Ms McMillan, who was made an honorary patron in 2011 and to date has helped raise more than £500,000 for the charity, said the tragedy underlined the risks involved for everyone.
"I think there is popular misconception that base camp is easy and only the summit counts but that's usually a view held by people who have no comprehension of the scale of these mountains or the knowledge of how altitude affects the body," she said.
"Base camp is a long slog, beginning at plus 20 degrees and dropping to minus 18. Living conditions are very basic and just keeping healthy and strong day in order to get up and down safely is a challenge in itself."
The base camp was Ms McMillan's second high altitude challenge, having summited Mount Kilimanjaro (5895m) in 2015 with five others from the Everest team.
On that occasion she was floored by altitude sickness and endured a gruelling 17-hour summit punctuated by ill-health.
This time, despite an iron transfusion for chronic anaemia just days before her departure to Nepal, she had no such symptoms.
Ms McMillan said: "I think the big difference was time. In Tanzania we climbed to 5,895m in five days, on Everest it took us eight days to reach 5,364m. Those extra days make all the difference in helping your body acclimatise.
"However, if the iron transfusion hadn't come through in time, I doubt I would have risked my health and the two years of organisation and planning would have been in vain for me at least."
Of the 26 people on the team, Ms McMillan knew or had completed running, cycling, trekking and abseiling challenges with, 20 others in the UK, Central America, Asia or Africa in a decade volunteering for Marie Curie.
"I  feel on top the world but I have to admit I'm really appreciating living at sea level right now," she said.
"It's a big world out there though so who knows what next year might bring."