VIDEO: Dundee West candidate Jim Malone accused of anti-Semitism in newly unearthed speech
Dundee West parliamentary candidate Jim Malone has been accused of anti-Semitism over comments made in newly uncovered footage.
Labour bosses are under growing pressure to take action against Mr Malone after it previously emerged several individuals closely linked to his campaign have been involved in sharing allegedly anti-Semitic or racist content online.
Hope Not Hate, Labour Against AntiSemitism and Graeme McKenzie – a member of the Dundee Labour Party executive committee – have all urged Scottish Labour to suspend Mr Malone and carry out a full investigation.
The former firefighter is at the centre of fresh controversy after video footage emerged of him speaking at an event in 2010. Campaigners claim it shows him comparing the treatment of Palestinians to Jews in Nazi concentration camps.
Video of the contentious comments is above this article.
This would put Mr Malone at odds with International Holocaust Remembrance Alliance's working definition of anti-Semitism, adopted by Labour earlier this year.
Speaking at the event, Mr Malone said he was the son of a Scots soldier "like many here whose fathers and grandfathers liberated Bergen-Belsen, who came home and told them tales of the horrors of Nazi regime and what they had seen in Bergen-Belsen in 1945".
He said: "My father also served in Palestine at the end of the war – he was a regular soldier and he also told me the disgust that he felt in the treatment of the Palestinian people by the Zionists then.
"We must take that fight against Zionism that my father saw and we must take that fight forward into the 21st Century through the trade union movement and onward to victory."
Mr Malone's comments include a reference to kits confiscated while they were being sent to firefighters in Palestine, which the Labour candidate said Israelis should use to "mop up the blood of the martyrs".
In response to the footage, which was first uncovered by investigative group Gnasher Jew, campaigners Labour Against Antisemistism called for Mr Malone to be expelled from the party "without delay".
Fiona Sharpe, a spokeswoman for the group, said: "Jim Malone appears to be guilty of making blatantly anti-Semitic comments in this newly discovered footage. As a consequence he should be auto-excluded from the Labour Party.
"In talking about Israelis using firefighter kits to 'mop up the blood of the martyrs', Mr Malone is seemingly reproducing the extremist language of violent jihadists.
"Meanwhile, his comparison of the concentration camps of Bergen-Belsen with treatment of the Palestinians is a disgraceful statement that we believe is categorically anti-Semitic according to the IHRA definition of anti-Semitism – a definition the Labour Party has supposedly adopted in full.
"The fact that his speech is also a gross distortion of history only underlines his apparent ignorance amid his obvious fanaticism."
Scottish Labour said it "takes all complaints of anti-Semitism extremely seriously and they are fully investigated in line with our rules and procedures and any appropriate action is taken".
Mr Malone has repeatedly failed to respond to requests for comment since he was first contacted by The Courier on Monday. He did not respond when asked again yesterday.
Watch the full video of Mr Malone's speech below.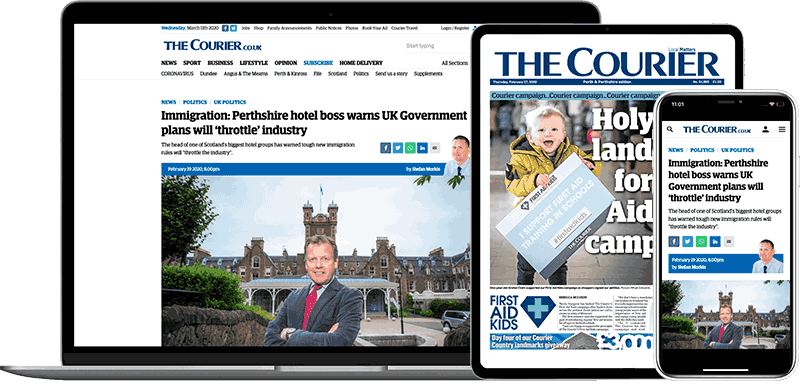 Help support quality local journalism … become a digital subscriber to The Courier
For as little as £5.99 a month you can access all of our content, including Premium articles.
Subscribe