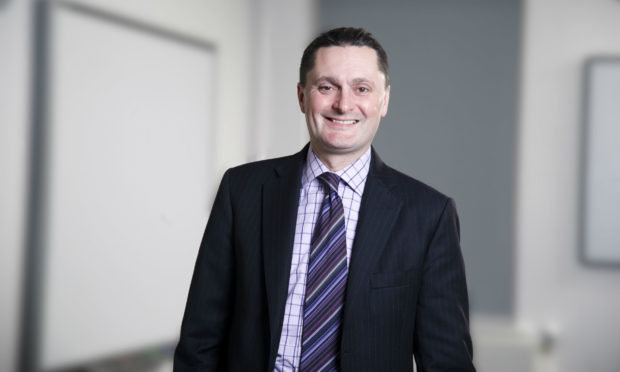 Dundee University's former principal has been told he can continue to stay in the luxury apartment at the centre of claims over unpaid rent.
Professor Andrew Atherton, who only took up the post in January this year, resigned amid a cloud of controversy last month.
The 53-year-old was suspended from his £254,000 a year position while bosses investigated claims he did not pay rent as well as allegations that he bullied staff.
EXCLUSIVE: £298k-a-year Dundee University principal suspended for allegedly not paying rent
It has now emerged he has an agreement with the university meaning he can stay at University House on Perth Road until the end of February.
Dundee University say the tenancy agreement struck between both parties meant Prof Atherton was entitled to live in the property, despite no longer being an employee.
A spokesperson said: "There is a private tenancy agreement relating to the flat within University House, which is continuing to February 29 2020, with the agreement of the University Court."
The university said at the time of Prof Atherton's departure that he had left because it became apparent his "values" and "vision for the future" did not match those of the institution.
He received six months' wages in lieu of notice, amounting to £70,000 after tax and other deductions.
Assuming Prof Atherton received 10 months' salary, his wages equalled £10,000 a week for the time between his official start date of January 1 and his suspension on September 13.
The saga has attracted criticism from many quarters.
Dundee University principal suspended over rent payment claims accused of bullying staff
Dundee University rector Jim Spence backs strike action and criticises principal payout
Sports journalist and Dundee University rector Jim Spence said Prof Atherton's payout "sits badly" with him and backed the University and College Union's (UCU) ongoing strike action.
Dr Carlo Morelli, UCU Scotland president and senior lecturer at Dundee University, said the situation had left staff dismayed and called for the release of all details.
Before arriving in Dundee, Prof Atherton had been professor of enterprise at Lancaster University.
Prior to that, he helped establish the country's first new engineering school in 20 years at Lincoln University.
Dundee University has yet to reveal the full details of its investigation or confirm the reasons for his suspension.
It has yet to appoint a successor as principal.