VIDEO: Dundee Labour candidate Jim Malone attacks media as he dismisses anti-Semitism claims
A Dundee Labour parliamentary candidate has said he is treating accusations of anti-Semitism with "contempt".
Jim Malone, who is standing in Dundee West, is facing calls for his expulsion from the Labour Party, after footage of a speech where he drew parallels between the treatment of Palestinians and Nazi concentration camps was discovered online.
Despite repeated requests for comment, Mr Malone has refused to speak to The Courier about the allegations.
Instead, he released a video on his Facebook page on Sunday where he criticised the media for reporting concerns by Labour party members about anti-Semitism instead.
Footage of this speech is above this article.
The Labour party has been heavily criticised for its failure to tackle anti-Semitism.
Last week the chief rabbi Ephraim Mirvis said the party's response to anti-Semitism has been "utterly inadequate".
In Mr Malone's video, where he is flanked by Dundee Labour chairwoman Pauline Rourke and secretary Marion Sporing, he states: "I'm going to say something about the attacks in the Press that we've obviously been under over the past few days.
"We're absolutely solid in this campaign. We're moving forward today with a positive message we hope leads to a revolutionary Labour government.
"I'd like to thank everyone who has been sending messages of support, members of the opposition, SNP supporters, Liberal Democrat supporters all offering us all the best.
"They've read these scurrilous articles and are treating them with the contempt they deserve."
"We're taking their campaign for the last 12 days for victory, and a socialist government in Dundee West."
Ms Rourke has also been criticised for emailing party members accusing the press of trying to "discredit" Mr Malone, despite admitting she has not watched the video of Mr Malone.
Ms Rourke also claimed Graeme McKenzie, a Co-Operative Party representative on the local executive committee, had breached party rules by calling for Mr Malone's suspension – a move several party members likened to bullying.
Other Labour figures are now also urging the party to take action against Mr Malone, a former organiser for the Fires Brigade Union.
John Ruddy, the former chairman of the Angus Constituency Labour Party, described Ms Rourke's email as "shocking" and said the Scottish Labour Party should take immediate action.
Scottish Labour was asked to comment.
Last week the SNP dropped their Kirkcaldy candidate Neale Hanvey after he posted anti-Semitic material online.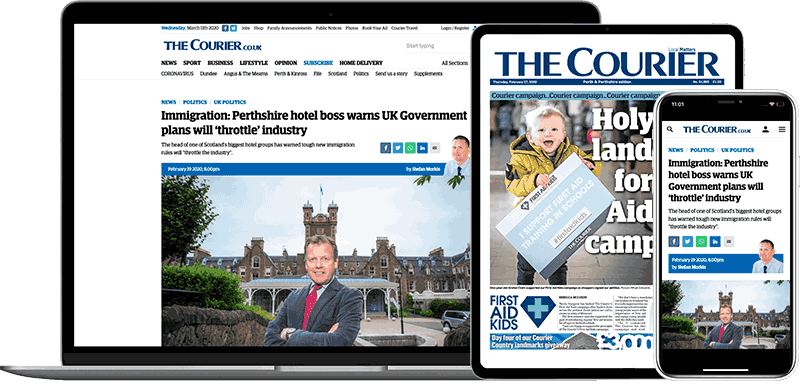 Help support quality local journalism … become a digital subscriber to The Courier
For as little as £5.99 a month you can access all of our content, including Premium articles.
Subscribe