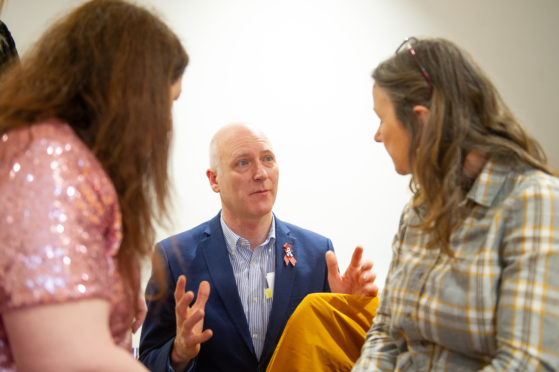 Brain injury survivors from Tayside have told the government about their experiences before the publication of plans to overhaul neurological care in Scotland.
Dundee City West MSP Joe Fitzpatrick spoke to service users at Headway Dundee and Angus. The Minister for Public Health, Sport and Wellbeing's visit came before publishing of the National Action Plan on Neurological Conditions in a few weeks.
The plan will aim to give patients a say in their care, improve the co-ordination of health and social care support and improve access to timely support for service users.
Mr Fitzpatrick said: "It is important that a person with acquired brain injury is able to decide what support they need, when it is to be delivered, and by whom.
"This government sees Headway, and other third centre organisations, as key partners in delivering higher standards of treatment and care.
"This is especially relevant given the integration of health and social care and the new landscape, which will help deliver a more person-centred approach."
One of the Headway service users is Stobswell resident Pam Kalsi, who had two strokes around ten years ago and has been coming to the group for the past four years.
The 59-year-old said: "The strokes came out of the blue.
"I didn't know what was happening and I didn't really understand the long-term effects.
"I kept trying to work and carry on as normal and eventually I realised I couldn't.
"It's difficult because it's a hidden disability – I look fine, but the fatigue and the confusion make it difficult to function.
"Initially I didn't know about this group but since I started coming it's helped me so much."
Headway helps service-users in various ways including peer-to-peer support, activities and help with well-being and living healthily.
The group's secretary, Sarah Douglas, said: "We invited Joe Fitzpatrick to come along and see what the group does and hear from the service users themselves.
"The group is run by staff and volunteers and is an opportunity to provide peer support, as well as social activities.
"We want to see what support Joe and the Scottish Government can give us going forward."