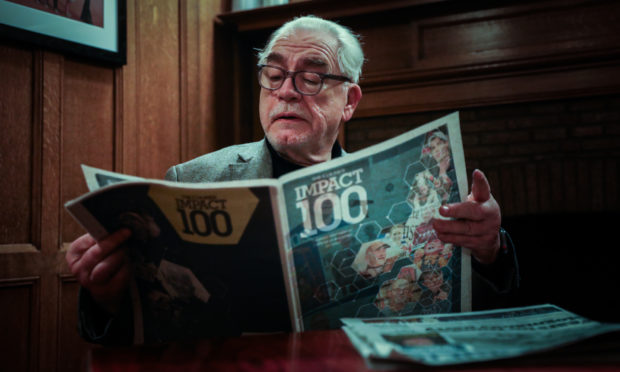 Dundee-born actor Brian Cox has described coming top of The Courier's 2019 Impact 100 list as "quite humbling".
In an exclusive interview with The Courier, just hours after flying into the UK to support Social Bite's World's Biggest Sleep Out homelessness event in Edinburgh on Saturday December 7, the 73-year-old Hollywood A-lister said: "There's nothing like making it in your own home town.
"We can travel the world but there's no honour like the honour you receive at home.
"It's quite humbling really. I feel pleased as punch. It's a considerable honour. I'm very chuffed by it."
Mr Cox, who has been tipped for a 2020 Golden Globe nomination, came top of The Courier poll following a year that has seen the Manhunter, X Men 2 and Bob Servant actor come to renewed prominence in the HBO show Succession.
Playing Logan Roy – an 80-year-old billionaire and head of a media conglomerate – The Courier's Impact 100 panel concluded that Mr Cox's portrayal is "superbly mercurial as the ageing beast of business" deciding which – if any – of his children should take over his empire.
With Succession tipped to take over from Game of Thrones as the world's biggest TV show, there's a nod to real life whereby his character was born in Dundee and an episode of the second season was filmed at the V&A, showcasing the city to great effect.
But Mr Cox, whose family read The Courier when he was a boy, laughed when he recalled how he found out the fictional character Logan Roy was to be from Dundee.
"When we started the character was born in Quebec, Canada," said Mr Cox, who started his career at Dundee Rep when he was 14, and who helped set up a drama group which included various DC Thomson sub editors in Dundee when he was 16/17.
"We were filming the ninth episode and I was told they were changing him to be from Dundee Scotland! I'd been playing this mid-Atlantic Canadian for months!
"In the second series they had this idea of doing an episode called Dundee.
"It was so funny because the cast – it was all about Logan's bad memories of Dundee – he couldn't face his birthplace and all that. Then they had this big do at the V&A that showed off Dundee beautifully.
"It was so funny. I ended up giving the cast a tour of Dundee. We visited my old schools, churches – St Mary's Lochee was designed by Hansom who designed the Hansom Cab – St Mary's Forebank. It was bizarre! A real trip down memory lane…."
Mr Cox said he had thought about whether Logan Roy might have worked with Courier publisher DC Thomson & Co Ltd – and he had concluded this would probably have been the case.
"I think Logan possibly worked at one of the papers when he was younger," he said.
"He may have spent a year or so in Dundee at The Courier or one of the magazines.
"A lot of famous people started at Dundee. He's definitely a newspaper man."
Mr Cox said he was "very proud" of his home city and of Dundonians themselves.
He added: "Dundee has come a long way since I was a boy. It's been more beat up than any other city I know. It has it's problems, but it's doing incredibly well. It's a considerable honour to be honoured by my home city in this way. I'm very chuffed by it."
*In Saturday's Courier, Brian Cox tells Michael Alexander why he's supporting Social Bite's World's Biggest Sleep Out this weekend and shares his views on the forthcoming General Election.