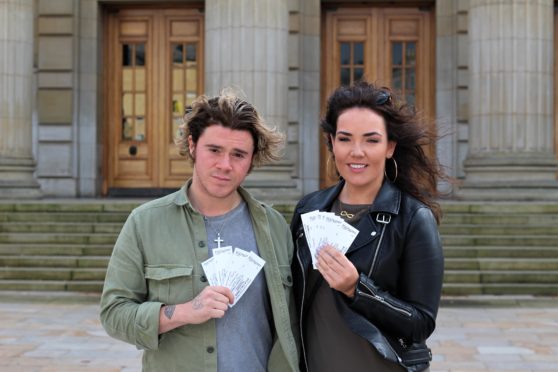 Plans to host Dundee's first outdoor Hogmanay party in decades have been scrapped after planning issues and spiralling costs forced organisers to move the event to a city nightclub.
The party will now instead be held at Fat Sams, and GMC Ventures – the firm behind the event – has confirmed it will not be offering refunds to ticket holders.
The reduced capacity means the daytime slot has now sold out and the evening show currently has fewer than 100 tickets remaining, with GMC vowing to "keep the quality and wow factor of production the same".
Dundee City Council's licensing committee last week told organisers they must resolve issues relating to toilets, muster points, barriers, bus queues on Crichton Street and first aid provision by December 20.
Jill Gibson, of GMC Ventures, described the deadline as "unfeasibly tight" and confirmed yesterday the street party has now been moved indoors.
She said: "Unfortunately, refunds won't be available. Gigs change venues all the time, including the move of the Craig David concert from Slessor Gardens to the Caird Hall earlier this year.
"I completely understand people wanted an outdoor street party. We wanted a long line of outdoor street parties in Dundee for years to come."
The event, called It's Happening, had been billed as the first large-scale Hogmanay street party in Dundee since 1999.
The View frontman Kyle Falconer is set to headline, following live music from Eddi Reader, rock pipe band Gleadhraich and Sinderins.
Organisers took to social media on Saturday to announce the change after fearing a large number of residents would incorrectly assume the event had been cancelled following last week's licensing committee ruling.
In a lengthy post, GMC said it had a "very experienced team in place that have run lots of large events in various parts of Scotland and dealt with multiple different council groups who have always been helpful and supportive".
It said it was given advice by Dundee's safety advisory group "which we took on board even though we felt elements of it were unnecessary and costly" but said it now feels it is "not possible" to continue working with the events department to deliver the party.
Ms Gibson added: "It was either change the venue or cancel the event, and that is the last thing we wanted.
"My first phone call to the council was in November last year, which is why it is so disappointing to have them make these demands at such a late stage. We've been forced into this decision but the best option was to move."
GMC Ventures had hoped to run another outdoor party in Slessor Gardens next year and it is understood the organisers have not ruled out speaking to Dundee City Council about arranging such an event in the future.
It's Happening was originally planned to be a two-day affair, with 80's pop band Squeeze headlining the first night. Sluggish ticket sales for December 30 forced GMC to scale back the celebrations, cancelling that night's event.
Meanwhile, Festival Republic – the team behind the Download, Reading and Leeds music festivals – have submitted an application to Dundee City Council seeking permission to stage a three-day event at Camperdown Park on May 22, 23 and 24.
The plans would see the park packed with four stages, bars, food stalls and funfair rides in a set-up similar to the Carnival Fifty-Six festival hosted at Camperdown in 2017.