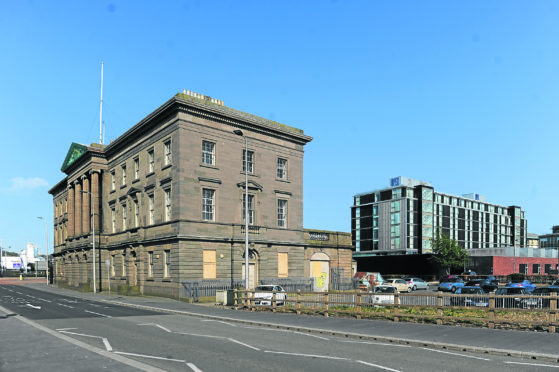 A Dundee landmark which has stood empty for decades is being tipped for an unlikely turnaround in its fortunes.
Custom House could be lifted up and turned around by 90 degrees under a new plan from a member of Dundee Civic Trust to bring the former headquarters of the city's Port Authority back to life.
Jerzy Rzepecki, 71, was inspired by the Communist Government of Poland, which removed Lubomirski Palace from its foundations in 1970 and re-orientated the entire building so it aligned with the Saxon axis, a line running through historical sites of Poland.
Writing in Dundee Civic Trust's latest newsletter, Mr Rzepecki, said it would be easier to bring the building back into use if it would stood at a right angle to its current position with its "currently useless front door facing the dock instead of being a yard away from the main road".
To solve the problem, Mr Rzepecki suggests jacking the building up and rotating it slowly on rails.
It took engineers 48 days to slowly inch Lubomirksi Palace to its new position.
Mr Rzepecki, who is of Polish heritage, said: "This is a very communist Poland we're talking about in 1970. Food shops were literally short of food and the pubs had no beer.
"Instead of flattening this monument to the upper classes, they simply shifted it by 90 degrees.
"The building is at least three times the size of the Custom House. They jacked it up, put it on rails and pulled. Slowly.
"If cash-strapped Poland could do this in 1970 is it beyond the wit of Dundee to do the same on a much smaller scale in 2020?"
Speaking to The Courier, the retired teacher said: "Custom House is just standing there forlorn and they need to do something with it.
"There was a lighthouse in France where they put it on rails and moved it back from the cliff so it is not outwith the possibility for Dundee.
"it is angled the wrong way , the front door cannot be used because it opens onto the road."
Plans to convert the 1840s Custom House into a boutique hotel were dropped by owners Apex Hotels earlier this year.
The building was put up for sale as a potential residential development and is now understood to be under offer.
Other buildings in Dundee have been moved from their original position, although this was done by dismantling and reassembling the structure rather than putting it on wheels.
The A-listed former Gourlay Brothers engineers and shipbuilders building, was moved to form part of the Gallagher Retail Park.
Now occupied by Marks and Spencer, the 1870s property was listed because of its distinctive cast iron-framed interior structure.