Michael Alexander hears how the release of Star Wars: The Rise of Skywalker is expected to draw more visitors to the Hello, Robot exhibition at V&A Dundee and provide a wider boost to film tourism.
A long time ago, in a galaxy far, far away…or, to be more precise in 1977 and in cinemas worldwide, one of the Rebel Alliance's greatest leaders with a soft spot for scoundrels, appeared on-screen for the first time.
The moment when Princess Leia Organa placed the stolen Death Star plans into the droid R2-D2 in the opening scenes of Star Wars: Episode IV – A New Hope became an iconic moment in cinematic history and was the launch pad for actress Carrie Fisher to be catapulted into sci-fi movie folklore.
Visit Scotland's regional leadership director for the East of Scotland Caroline Warburton was too young to go to the cinema to see Star Wars when it hit the big screen 42 years ago.
But with the ninth instalment Star Wars: The Rise of Skywalker hitting cinema screens on December 19, and with the original RD-2D prop currently drawing visitors to the Hello, Robot exhibition at V&A Dundee, it's brought back memories of the numerous connections between Courier Country and the US$65 billion Star Wars franchise – including the time Carrie Fisher danced on a deserted railway platform in Dundee.
"I can't remember seeing the first one until later as I wasn't very old, but I do remember going to see one with my brother who was a mad Star Wars fan – I think it was Return of the Jedi," said Caroline, as she gamely recreated Princess Leia's famous 'Help me, Obi-Wan Kenobi. You're my only hope' scene with the real R2-D2 at V&A Dundee.
"I certainly never thought that one day I would be dressed as Carrie Fisher in front of the original R2-D2 – inside a building once compared with the Death Star!"
The release of Star Wars: The Rise of Skywalker will be poignant as it's the last film in the current Disney trilogy.
However, it'll also be special for including a posthumous appearance by Carrie Fisher.
Fisher, who died in December 2016, aged 60, between the releases of The Force Awakens and The Last Jedi, will make her second Star Wars appearance after her death with filmmakers using archive footage shot but not used for previous movies. She also gets first billing on the movie poster.
But her appearance also raises sentimentality about the time she danced the Dashing White Sergeant at Dundee railway station.
Writing in The Times a few days after her death, journalist Roderick Grant recalled travelling around Scotland on board The Royal Scotsman with the actress a number of years before.
Accompanied by her French bulldog Gary, she was one of 28 fee-paying passengers led by an accordion orchestra on to the deserted platform at Dundee railway station as part of their £1500 per day trip where they danced The Dashing White Sergeant and did eight-some reels.
Other connections between Star Wars and Courier Country include Crieff actor Denis Lawson playing X-Wing pilot Wedge Antilles in the original Star Wars trilogy; Lawson being the uncle of Crieff actor Ewan McGregor who played a youthful Obi-Wan Kenobi in the Star Wars prequel trilogy, and the evil Emperor Palpatine was played in the original films by Carnoustie-raised actor Ian McDiarmid – returning for the Star Wars prequels in 1999's The Phantom Menace.
In addition, who can forget comedy farmer Jim Smith's superb 'What if Darth Vader came fae Fife?' sketch which became a hit on social media after being aired on BBC Radio Four, while one of the most momentous tributes came in spring 2017 when Newport film maker Gary Gowans commemorated 'May the Fourth' by recasting Dundee's then under-construction V&A Museum as the Death Star in a short film that also achieved widespread popularity.
V&A Dundee also had Queen Amidala costumes designed by Glasgow-born Trisha Biggar on display in their Scottish Design Galleries until earlier this year.
But the links with Scotland don't stop there: Jimmy Vee from North Lanarkshire now plays R2-D2; legendary Star Wars designer and illustrator Ralph McQuarrie, who died in March last year had the middle name Angus; the short fantasy film Black Angel, commissioned by George Lucas and written and produced by the Star Wars set director Roger Christian, shot on locations in Scotland; while  artist Iain McCaig who did the artwork for episodes one, two and three learnt his skills at Glasgow School of Art.
From a VisitScotland perspective, Caroline said it "helps put places on the map" if an actor is from a certain town or city.
However, as far as film tourism goes, she said it tends to be use of locations or historical links to an area – for example the 'Outlander effect' – that draws visitors.
"It's reckoned a fifth of people visit Scotland because they've seen it on television," Caroline said.
"It's the location themselves – they want to stand in the places where actors stood – or it's the story it was telling. It might be a historical site that might not necessarily be featured in the film but is where Mary Queen of Scots was imprisoned, for example, at Loch Leven castle. Fictional or real.
"But some celebrities can raise the profile. People in Scotland know Ewan McGregor from Crieff, Brian Cox from Dundee – high profile people that can raise profile of towns and cities. Dougray Scott from Glenrothes is another example.
"There's that inspirational element to realise these stars on big screen came from a 'normal' places that we know.
"But it's more places appearing on screen that can be the 'wow' factor."
Kirsty Hassard, curator of Hello, Robot at the V&A, said visitors to the exhibition had reached 50% of their target in 25% of the forecast time. She expected interest to grow further around R2-D2 in particular around the release of the latest Star Wars film.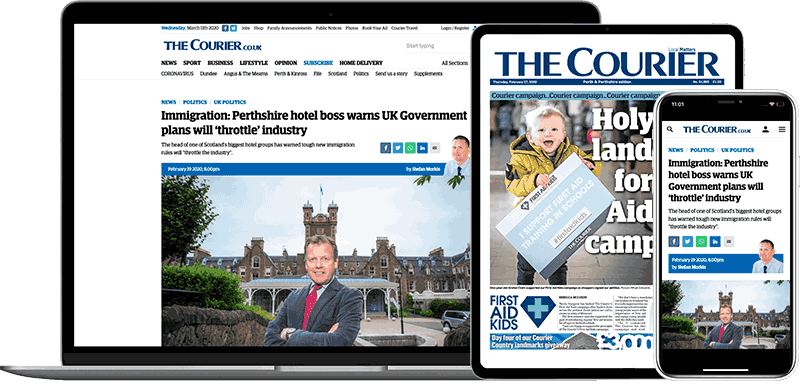 Help support quality local journalism … become a digital subscriber to The Courier
For as little as £5.99 a month you can access all of our content, including Premium articles.
Subscribe