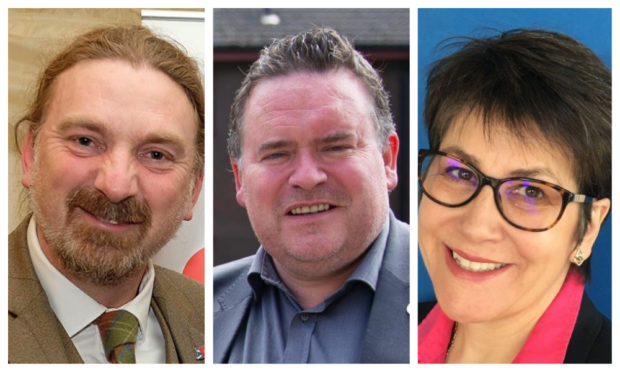 The Conservative candidates for Dundee came under fire yesterday for missing another hustings in the city.
The Courier's political editor Paul Malik chaired a debate at Dundee University last night, with every other party represented.
Dundee East candidate for the SNP Stewart Hosie had to defend his West End counterpart, Chris Law, for not being present for questions either.
For those who did appear, democracy, austerity and drugs were the most discussed topics of the night, which was organised by student union Dusa.
Joining Mr Hosie was Jim Malone for Labour, Quinta Arrey for the Christian Peoples Alliance, Daniel Coleman for the Liberal Democrats and Stuart Waiton for the Brexit Party.
Most of the candidates blasted the Tories for not sending someone. Dundee East candidate Phillip Scott and Dundee West candidate Tess White were absent.
The latest no-shows come after Mr Law and Ms White failed to turn up for a hustings in Lochee.
Mr Malone said: "I am appalled to see the Conservatives haven't appeared.
"All the candidates should be making every effort to be at hustings."
Similar sentiments were expressed towards Mr Law, with a number of audience members saying he is difficult to reach and frustrated at his lack of appearance at other hustings.
'More chance of seeing Shergar': Frustration as SNP's Chris Law ducks out of Dundee hustings
Mr Hosie said: "His office sits at the end of (Lochee) High Street. It's straightforward: make an appointment to see the man."
On the topic of democratic representation, Mr Waiton said the Brexit Party was the best option of honouring the result of the 2016 referendum.
He said: "It is very clear we don't have control of our laws and borders."
But Mr Waiton also admitted to "not thinking about what I could do for the people of Dundee" while campaigning.
"I was thinking how I can defend democracy," he added.
Dundee's struggle with drugs was also raised, with candidates being asked how they would curb the rise in deaths.
Ms Arrey said a "holistic" approach was needed. "The dysfunction of family is one of the main reasons that people get into bad habits," she said.
"We have to look at the root cause."
On fighting cuts to local government funding, Mr Coleman said: "I would be campaigning against cuts. The best place to tackle that is the root, which is Westminster."
GE2019 Courier constituency profiles: Meet the candidates hoping for your vote on December 12