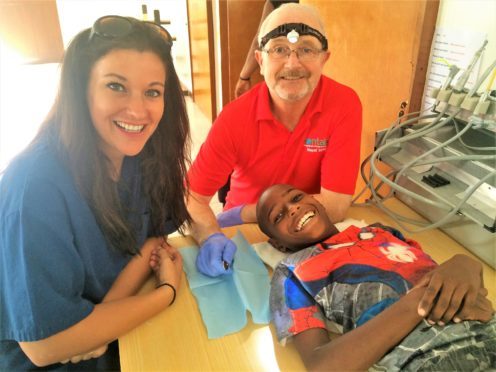 A model from Dundee has helped help children in Cape Verde with £150,000 worth of free dental and optical care.
Elaine Harris set up the clinic and flew in health practitioners after seeing a lack of healthcare for deprived youngsters on the island, which is off the west coast of the African mainland.
Last year, they carried out £38,242 worth of work and Elaine pledged to repeat the venture this year due to its success.
This year she returned to the island with a team of eight specialists to carry out the work at the Cape Verde Dental and Optical Clinic. She shares updates on the campaign's Facebook page.
The Dundee model made a name for herself after entering the UK's Top Model contest just six months after giving birth in 2012. It led to her becoming the face of many advertising campaigns around the world.
The 39-year old told the Sunday Mail that Cape Verde has become her "second home" having lived there between 2006 and 2010.
She said: "I loved the people but I'd seen the hardship many faced so I decided I wanted to do everything I could to help.
"The average wage here is £200 a month but to see a dentist or optician is more than £50 so many can't afford basic healthcare.
"We've had one boy who was scared to go to the dentist because his grandmother had pulled out two of his teeth."
The free treatment includes nearly 300 eye tests being carried out and 47 pairs of glasses delivered to children.
In its first four days since reopening earlier this month, the clinic carried out 152 dental exams.
A JustGiving page was set up for donations to the cause, with the hope that even more dental and optical checks can be carried out over the festive period and has already raised £1,400.
Earlier this year, Elaine managed to travel to Australia for free as part of her ongoing charitable work.
She raised £5,000 as part of the 10-day challenge, which saw her travel from Forar to Sydney on the generosity of strangers giving her lifts and buying flights.
Other fundraising deeds include a 926-mile journey from John o' Groats to Land's End in July 2017, even though the furthest she had cycled before setting off was 12 miles. That feat raised £2,450.