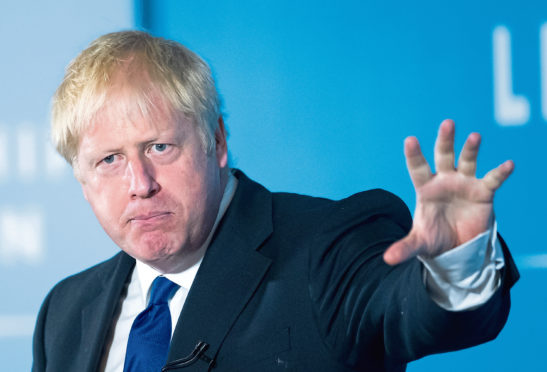 Doctors in Tayside have joined a group of 175 leading medical professionals warning air pollution is causing a "public health crisis" in hospital wards across the UK.
Physicians have urged prime minister Boris Johnson to commit more funds to addressing air quality amid fears medical centres are being swamped by thousands of patients arriving with respiratory conditions.
In a letter to Mr Johnson, the doctors said pressures on services are being "exacerbated by preventable causes" and urged him to set a legally-binding target to meet World Health Organisation guidelines for air pollution by 2030.
"Thousands of children and adults are in hospital or waiting rooms with conditions such as respiratory diseases, bronchitis and pneumonia who would not be there if air pollution was reduced," they wrote.
"Air pollution isn't just associated with conditions such as lung cancer or asthma, it can also trigger heart attacks, strokes and has been linked with diabetes and depression.
"The hospitals and surgeries we work in are overwhelmed, particularly in A&E, and the severe pressures in the winter months are being exacerbated by preventable causes. This is a public health crisis."
Jill Belch, a professor of vascular medicine at Ninewells Hospital and co-leader of the Tayside Pollution Project at Dundee University, is one of the signatories to the letter. Her research has shown an increase in hospital admissions on high pollution days.
Prof Belch said: "It's a huge problem. I feel very strongly that this is a new silent killer and it is an entirely avoidable cause of death.
"There are lot of simple things we can do like scrapping older vehicles, encouraging electric cars and banning diesel vehicles from city centres but the difficulty we have right now is that people are ignoring the problem, particularly local authorities.
"Children are the most affected because they have the biggest lung area compared to body size. Once that damage is done you can't get it back so we will be left with a damaged generation."
Professor James Chalmers, chair in respiratory research at Dundee University, has also signed the letter.
He said the UK has "some of the highest rates of pneumonia in Europe, with air pollution being one of the major preventable factors for developing the condition".
A government spokesman said it is "committed to cleaning up our air as well as setting strict new laws on air quality".
He added: "This builds on our £3.5 billion plan to improve air quality and reduce harmful emissions, with a Clean Air Strategy, backed by the World Health Organisation as an example for the rest of the world to follow, and our pioneering Clean Air Zones delivering urgent action to clean up our air.
"To deliver a world-class health care system, we are providing the NHS a record cash funding boost worth an extra £33.9 billion a year by 2023-24."