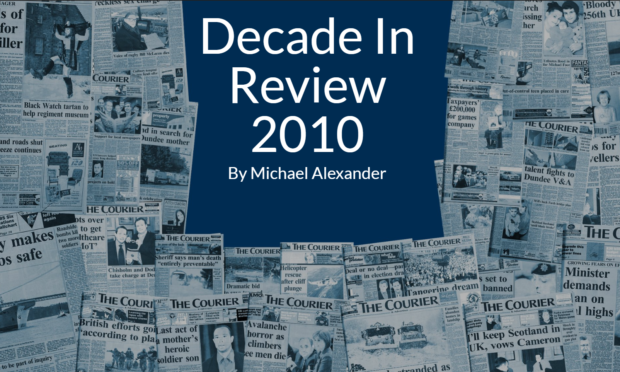 It was the year that David Cameron and Nick Clegg joined forces at Westminster to send Labour's Gordon Brown packing and when thousands of US embassy cables by Julian Assange's Wikileaks website caused global controversy.
The year that mother nature reminded the world who's boss when ash from a volcanic eruption in Iceland triggered the UK's worst airspace restriction in living memory, when an explosion on BP's Deepwater Horizon platform in the Gulf of Mexico killed 11 oil workers and caused one of the worst oil spills in history, and a devastating Haiti earthquake killed 250,000 and injured 300,000 people.
The world of technology was also revolutionised with the launch of the iPad while Facebook had its biggest year yet, crossing the 500 million registered member mark.
Parts of Scotland were as cold as a domestic freezer for the first few weeks of the year as snow and ice dominated headlines in the longest cold spell for over 30 years. Thousands of schools closed, buses, trains and planes were delayed and power supplies failed as winter chaos reigned. Fife Council faced a barrage of criticism when it was revealed it almost ran out of salt to treat roads and pavements while medics in Tayside reported seeing a new fracture patient every 41 minutes over the New Year as the Arctic blast left pavements and side roads treacherous. Another unusual big freeze gripped the country at the end of the year – complete with "thunder snow"!
The General Election in May saw the Conservatives led by David Cameron win the largest number of votes and seats. However, the hung parliament resulted in the Tories doing a deal with Nick Clegg's Liberal Democrats to form a coalition government. The result ended 13 years of Labour government and led to the resignation of Fife MP Gordon Brown as Labour leader. In Scotland, Labour remained the biggest party with 41 seats while the SNP's six seats fell short of Alex Salmond's 20-seat target.
More than 50 police officers were assigned to investigate the murder of millionaire Fife businessman Toby Siddique (38) after he was shot in the head from point-blank range in an apparent gangland-style hit at a flat in Forres Drive, Glenrothes. Father-of-three Mr Siddique had been visiting tenant Davie Dalgleish when the gunman entered the flat and shot him. In 2012, his brother Mo, who ordered the killing after a fall-out with his brother over the family business, and Bulgarian hitman Tencho Andonov and fixer Deyan Nikolov were convicted at Edinburgh High Court and given life sentences.
A total of 185 people were laid off after the collapse of Dundee-based video games firm Realtime Worlds. The company, founded by the creator of Lemmings and Grand Theft Auto, went into administration in August. In Dundee, 157 of the company's 210 staff lost their jobs, along with 28 of the firm's US staff in Colorado.
There was upset and anger when two Rottweiler dogs dragged a 10-year-old girl from her bike in Dundee and mauled her, leaving her with permanent scars. The case led to calls for tighter laws over keeping dangerous dogs.
Prince William is to marry long-term girlfriend Kate Middleton, Clarence House announced. William, second in line to the throne, would marry in London the following year. The couple, both 28, met at St Andrews University when they were students in the early 2000s. William said using his late mother Diana's ring was "my way of making sure my mother didn't miss out on today and the excitement".
In November, a winning design was chosen for the V&A Museum planned for Dundee's waterfront. Japanese architect Kengo Kuma beat off competition from five other short-listed companies with his vision for what was then proposed as a £45 million development. More than 120 firms took part in the competition to design the landmark building being built in collaboration with the Victoria and Albert Museum in London.
PlayPlaySeek 00:00Current time03:24Toggle MuteVolume Toggle Fullscreen
The year ended with news that the future of RAF Leuchars was "hanging in the balance" after a leaked report revealed military chiefs had advised defence secretary Liam Fox it should be axed as an RAF base. In the document, air force chiefs pushed the Ministry of Defence to save Lossiemouth in Moray over its North Fife counterpart. The news came just months after Leuchars' 6 Squadron was armed with the first of its multirole Eurofighter Typhoon fighter jets, replacing the Tornado F3. Leuchars was the home of QRA (North), a force of armed and ready aircraft and suited and booted pilots prepared to take to the skies in defence of the UK at a moment's notice.
The year in sport
At the Vancouver Winter Olympics, the year got under way with Britain's women curlers, skipped by 19-year-old 'ice queen' Eve Muirhead from Perthshire, knocked out after a 6-5 defeat to Canada.
The busy sporting calendar saw Spain outshine the Netherlands in the final of the Fifa World Cup in South Africa, while the Delhi Commonwealth Games was at the time Scotland's second most successful games in history. Courier Country competitors included Fife swimmers Lucy Ellis and Kathryn Johnstone, Dundee archer James Laing and Perth and Kinross athlete Eilidh Child.
Little known South African golfer Louis Oosthuizen overcame pre-tournament odds of 200-1 to win the Open Championship played over the Old Course in St Andrews.
Some of the most dramatic sporting stories of the year involved Dundee's senior football clubs, however, with Dundee United winning the Scottish Cup in a famous 3-0 win over Ross County in the final at Hampden while city neighbours Dundee FC plunged into administration in October. Two weeks later DFC were deducted 25 points by the Scottish Football League – plunging them into a situation where they were 20 points adrift at the bottom of the First Division. However, Dundee went on a 23-match undefeated streak avoiding relegation and ended the season in mid-table.
The year in culture
One of the 1990s' biggest bands The Prodigy played a sold-out gig at the Caird Hall in January – but it was marred by a 24-year-old man being seriously injured after falling from a balcony.
T in the Park was still a fixture and fitting at Balado near Kinross with thousands of music fans enjoying acts including headliners Kasabian, Muse and Eminem.
A fortnight later, the also now defunct Big Tent Festival at Falkland attracted hundreds of visitors. Launched in 2005 as a community response to the G8 summit at Gleneagles, Big Tent was Fife's biggest festival and had grown in reputation year on year, winning awards and widespread acclaim along the way. This year's headliners included King Creosote and Rosanne Cash.
Celebrating Fife 2010 saw 53 flagship events and 326 other community events ranging from writer Ian Rankin to the world premiere of new work by Jack Vettriano.
The extravaganza was not without its detractors, with some opponents chastising Fife Council for putting up £1 million of the festival's eventual £2.2 million budget. However, an evaluation concluded the council's financial input was money well spent with an £8.2 million boost to Fife's economy.
Up to 50,000 people attended the annual RAF Leuchars Airshow, which celebrated the past, present and future of Britain's air defence. The show took place 70 years after the Battle of Britain. It was held as concerns rose over the future of local air bases including Leuchars, Lossiemouth and Kinloss.
And finally…
After a whole week of snow fall, the people of Dundee were starting to feel cold and ready for some warmth. A Dundee 'free hugs' video was a real winter warmer when Dundee University student Andy Barratt and his girlfriend headed out to spread some much-needed cheer. Their 'free hugs' video put smiles on countless faces across the world.
In other news, 2010 was also the year that the spotlight fell on the brutal murder of Perthshire woman Janet Henderson who, nearly 150 years on, was Scotland's oldest unsolved killing.