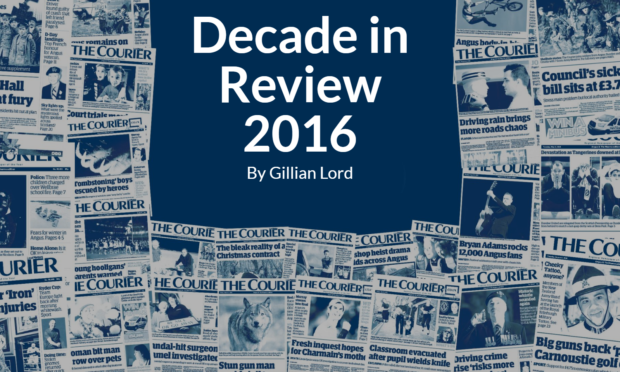 It was a big year for politics. First, in May, came the Scottish Parliament elections, only the fifth since devolution in 1999 – and the first time 16 and 17-year-olds could vote. It was also the first time three major parties were led by women.
The SNP remained the biggest party in Scotland by far, but fell two seats short of securing an overall consecutive majority. Labour lost major ground to the Tories, who became the official opposition.
It was the only time in 98 years that Labour had finished third in Scotland. Later, the Scotland Act offered further devolved powers, including giving Holyrood power to legislate on equal opportunities, abortion law, speed limits and gaming machines.
These events were dwarfed a month later by the EU Referendum, the shockwaves of which are still being felt today. In response to the question of whether they would prefer to leave the European Union, or remain, 51.89% people voted to leave and 48.11% to remain. The Scots were far clearer in their intentions, however, with 62% voting to remain, and just 38% choosing to leave. And so the scene was set for turbulent years in Great Britain, where politics was plunged into unprecedented chaos and disarray.
In December, as temperatures dropped to -7C, The Courier reported that Amazon workers were sleeping in tents near the company's Dunfermline site, or fulfilment centre, as Amazon calls it, raising questions as to the limits people had to go to get a job at the global giant over Christmas. The employees claimed they could not afford to travel to work from their homes in Perth. The story went viral, attracting hundreds of thousands of readers across the globe. Amazon said it "provides a safe and positive workplace with competitive pay and benefits".
The Burntisland community was shocked to learn 26-year-old Rebecca Johnson had been stabbed to death in December in Lapland, where she was working on Santa Safaris. The murder occurred at a husky kennels in Enontekio, a remote part of Finnish Lapland. After a police manhunt in sub-zero temperatures, with helicopters and snow scooters pursuing a suspect who had escaped on a dogsled, her boyfriend, 36-year-old Czech national Karel Frybl, was arrested. The former soldier was found guilty of her murder the following February.
Take That frontman Gary Barlow helped make a Dundee woman's 30th birthday the Greatest Day. The year before, the singing superstar had turned up at a few UK weddings as a surprise, but eagled-eyed Jill Campbell noted his announcement on Twitter that he would be turning his attention to milestone birthdays next. She began a sincere and determined Twitter campaign, begging the star to serenade her. When the big day came, she had no idea whether he would turn up or not. "I've loved it, but it's been an emotional rollercoaster", she told The Courier beforehand. "If Gary walked in I would break down." Instead, she had the happiest birthday ever. Barlow has written 14 number one hits and has sold over 50 million records worldwide. He shot to fame as a member of Take That but has also had an incredibly successful solo career.
Scotland's dog owners were warned to be vigilant as a deadly disease, which rots the flesh of dogs, was discovered here. Alabama rot, which is picked up on dogs' paws and legs during muddy walks, originated from America and was discovered in Britain before three cases were found north of the border. The University of Edinburgh's Royal (Dick) School of Veterinary Sciences warned that they disease starts as lesions, inflammation, reddening, sores, swelling, bruising and ulcers, usually affecting the feet and lower limbs, but can be seen around the face and in the mouth. The killer condition causes tiny clots in blood vessels, which can lead to ulcers on the skin and eventually kidney failure. Dog owners were advised to wash and dry their dogs' paws carefully after working them in wet or muddy areas. Most dogs would make a full recovery if their wounds were tended to early.
In December, drug addict Steven Jackson was given a life sentence for the brutal and apparently motiveless killing of his ex-girlfriend Kim MacKenzie, who was stabbed and bludgeoned to death in a frenzied, spontaneous attack. Then, with the help of Jackson's girlfriend Michelle Higgins, he dismembered her body and the pair dropped body parts in refuse bins throughout Montrose town centre. The shocking crime drew comparisons with another brutal Angus murder, when Vitas Plytnykas and Alexandras Skirda killed quiet, well-liked and hard-working Jolanta Bedaite in Brechin in 2008, dismembering her remains and dumping parts, including her head, into the North Sea. Jackson would later have 18 months added to his sentence after he attacked a prison custody officer transporting him on the A90.
The year in sport
The year 2016 will be remembered by fans of the Dundee clubs for only one thing: The Doon Derby.
A demise that the Tangerines trace back to 2015 was capped on May 2 when they suffered the ultimate ignominy of being relegated by their city neighbours, with local boy and Dundee fan Craig Wighton rubbing salt into the wounds by scoring the winning goal.
Hibs ended a 114-year wait to lift the William Hill Scottish Cup with a 3-2 victory over Rangers at Hampden Park.
Perth's Eilidh Doyle, the track and field athlete who specialises in the 400 metres hurdles and the 4 x 400 metres relay, was part of Great Britain's bronze-medal winning team at the Rio Olympics in the 4 x 400m relay.
Also at the Rio Olympics, Andy Murray became the first male tennis player to win two Olympic singles titles by beating Argentina's Juan Martin del Potro in Rio. It was a good year for Murray, with the win coming just five weeks after he won his second Wimbledon singles title, defeating Canadian Milos Raonic in the final. The 2016 season was to prove Murray's best ever, and he finished it ranked World Number 1.
The year in culture
It was a cultural exchange with a difference in Dundee when six Blogmanay bloggers from around the world arrived for a three-day designed-focused trip. For the travel bloggers from Hong Kong, China, France and England, it was their first trip to the UNESCO City of Design. Creative Dundee and the City of Design team showed them around – they played video games at Abertay, joined a ceilidh on the Unicorn and even visited Spex Pistols. Creative Scotland noted, however, that the weather was "unusually totally terrible the whole time."
It was also time for another royal visit to Dundee, this time the Queen and Prince Philip popped in, visiting the Michelin Tyre Factory, the University of Dundee and the Waterfront, where she opened Slessor Gardens.
This was also the year Graeme Macrae Burnet's Scottish novel, His Bloody Project, was shortlisted for the Man Booker prize. Published by small publishing house Saraband (whose books are regularly serialised in The Courier) His Bloody Project is set in 1869, around a brutal triple murder in a remote community in the Scottish Highlands. A young man by the name of Roderick Macrae is clearly guilty. But what drove him to commit the brutal crime?
And Finally…
Road rage accused Amanda McCabe was told her only chance of avoiding jail was to start knitting. She was said to have followed her victim for several miles in Dundee, before boxing her in, opening her car door and punching her in the face. McCabe, however, claimed she was only in the area to buy supplies from a specialist wool shop. She was given six months 'hard knitting', to prove her capabilities. Her efforts passed muster with the sheriff on her next appearance.
A sole masked man almost demolished a Kirkcaldy supermarket while repeatedly crashing into it with a stolen dump truck, in an apparent attempt at a robbery. After demolishing the south-west corner of the building with the truck, described as a six-tonne Benford swivel dumper, which had been stolen from a business premises nearby, the would-be thief fled the scene empty handed.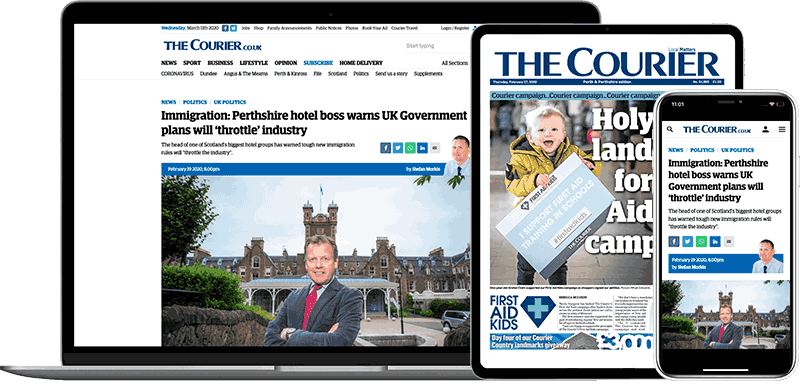 Help support quality local journalism … become a digital subscriber to The Courier
For as little as £5.99 a month you can access all of our content, including Premium articles.
Subscribe