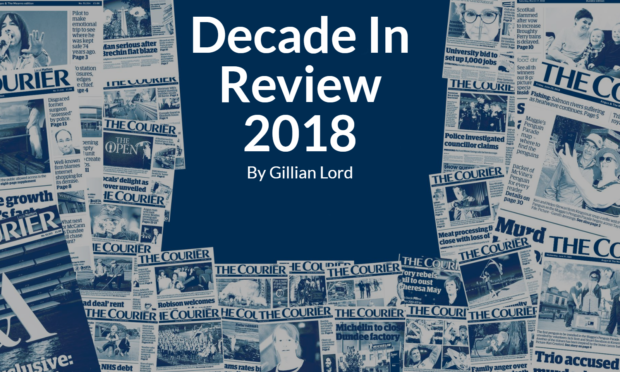 The #MeToo movement went global, after taking off in the United States in 2017 as a response to the allegations of sexual harassment and abuse made against heavyweight Hollywood producer Harvey Weinstein. In addition, the 2018 Nobel Peace Prize was awarded jointly to Congolese physician Denis Mukwege and Yazidi assault survivor Nadia Murad "for their efforts to end the use of sexual violence as a weapon of war and armed conflict."
The murder of Saudi dissident and Washington Post journalist Jamal Khashoggi shocked the world, not least because he entered the Saudi consulate in Istanbul on what should have been a routine matter, and didn't come out alive. While his body has not been recovered, international outcry resulted, and the Saudi Government eventually admitted he died inside the building.
Meanwhile, the Trump presidency rolled in spectacular fashion, with the President defying conventional expectations of presidential behaviour almost daily. His adversarial behaviour at the G7 summit in Quebec put him at odds with traditional allies, his trade war with traditional trading partners sparked anger and disbelief, while his pulling the USA out of the Iran Nuclear Deal shocked the world.
In Britain, the battle over Brexit continued, after Theresa May triggered Article 50 in 2017, effectively firing the starting gun on the UK's departure from the EU. Divisions in Parliament grew deeper and more bitter, and Mrs May had repeated trouble getting agreement on Brexit as Parliament became, effectively, deadlocked.
Former Russian double agent Sergei Skripal and daughter Yulia were poisoned with a nerve agent, Novichok, in Salisbury. The British government accused Russia of involvement in the attack, and diplomats were expelled from Britain. Later, 28 countries came out in support of Britain's assessment.
In Scotland, Conservative Party leader Ruth Davidson announced she was pregnant after IVF treatment with her partner, Jen Wilson, and chief constable of Police Scotland, Phil Gormley, resigned amid a series of investigations into claims of gross misconduct. He was replaced by Iain Livingstone.
Scotland was caught up in the massive Carillion crash, when the UK's second-largest construction company went bust. The Official Receiver estimated the company had liabilities of £6.9 billion when it went into liquidation at the start of the year. In Scotland, among the projects affected was the £1 billion bypass around Aberdeen, the Aberdeen Western Peripheral Route (AWPR), in which Carillion was a third consortium partner. Morrison Construction and Balfour Beatty were left to complete the job. On a far smaller scale, the improvements at Broughty Ferry Station continued uninterrupted after Carillion workers there were given the assurance their wages would continue to be paid.
Great jubilation greeted the opening of the V&A Museum of Design in Dundee in September, Scotland's first design museum. The public flocked to see the Kengo Kuma-designed, £80 million architectural marvel, and they have been flocking ever since. The first exhibition in the new building was Ocean Liners: Speed and Style. Wills and Kate – or the Duke and Duchess of Cambridge – officially opened it a few months later, and it has received world-wide attention.  By September 2019 it had received 830,000 visitors.
The Beast from the East battered Scotland in late February, with Scotland's first-ever red weather warning proving chillingly accurate. Communities were cut off, schools and businesses closed, hospital appointments cancelled, airports closed, buses, trains and flights cancelled and travellers stranded as Scotland was battered by snow and blizzards. Taking both damage and disruption into account, the bill was estimated at around £500 million.
Locals were aghast after The Courier revealed some 724 sex offenders were now living in areas across Tayside and Fife. The figures were obtained through a Freedom of Information request.
The heartbreaking story of how a baby came to be decapitated inside her mother's womb during delivery at Ninewells played out before a Medical Practitioners Tribunal Service hearing in Manchester. Dr Vaishnavy Laxman had been nearing the end of a 24-hour shift on a maternity unit when she had to deal with a 25-week-old breech baby. Rather than carry out an emergency C-section, which she believed would have killed the child, she attempted a manual manoeuvre, during which the terrible incident occurred. The tribunal cleared the distraught doctor of serious misconduct and said her fitness to practise was not impaired.
In what many would see as a harbinger of Brexit times to come, Castleton Farm in Laurencekirk in the Mearns reported it had to leave 100 tonnes of perfectly good fruit to rot, as the farm could not attract the usual seasonal workers from the EU to harvest the crop. The farm claimed their seasonal workforce had dropped 20% since the Seasonal Agricultural Workers Scheme ended.
Dundee school Braeview Academy in Whitfield was severely damaged in a fire, which police believed was deliberately lit. A few months later, a second fire was deliberately started in the former St Vincent's Primary School in Pitkerro Road.
The year in sport
Scotland won 44 medals in a total of nine sports at the 2018 Commonwealth Games at the Gold Coast, Australia  – 9 gold, 13 silver and 22 bronze. A surprising 11 medals were won in aquatics, with cycling being the sport that gleaned the most gold – four gold medals, to be precise. Of that haul, Angus bowler Darren Burnett was a gold medallist, along with Dundee cyclist Mark Stewart, whilst Fife swimmer Mark Szaranek took silver and a bronze, while Perthshire athlete Eilidh Doyle got a silver.
Perth swimmers Stephen Milne and Scott McLay were among the Courier Country bronze medallists, along with Fife bowler Lesley Doig and Angus boxer John Docherty.
A brave but very wounded Andy Murray hobbled out of the Australian Open, barely able to walk, his career, to all intents and purposes, over. After successful hip surgery, the plucky, determined Scot is back on the international circuit and hoping to one day compete again at the highest level of his sport.
France took the world by surprise when it won the World Cup in a six-goal thriller in Russia.
But 2018 won't be remembered too fondly by one of our local clubs. Brechin managed to complete an entire league season with no wins. There was better fortune for neighbours Montrose though, as they were promoted to League One as champions – ending a 22-year run in the bottom division.
The year in culture
Scotland's heart broke when the Mackintosh Building at the Glasgow School of Art caught fire for a second time. This occurred during a £38 million refurbishment to repair the damage from a previous fire four years before. Even more damaging than the first fire, the building's roof collapsed, with just walls and structural beams remaining in the building's foyer. Promises have been made to restore the historic property, designed by architect Charles Rennie Mackintosh, with cost estimates around the £100 million mark, and pledges of donations coming from all over the world.
Slessor Gardens, across the road from the newly-opened V&A Museum of Design in Dundee, rapidly proved its worth as a summer live music venue, attracting the likes of Little Mix, Lewis Capaldi, Olly Murs, UB40, Tom Jones, Primal Scream, Simple Minds, Chrissie Hynde and the Pretenders, and many many more.
In May, Prince Harry married Meghan Markle in St George's Chapel, Windsor, an event televised to an estimated global audience of 1.9 billion.
Stephen Hawking, world-renowned theoretical physicist, author and cosmologist, died at age 76. He was a long time sufferer of amyotrophic lateral sclerosis (ALS), or Lou Gehrig's Disease, and his resilience in the face of this debilitating condition endeared him to the world, while his ground-breaking scientific work enthralled.
Inspired by the Oor Wullie Bucket Trail success, the Maggie's Penguin Parade came to Dundee for the summer. A similar concept to the Bucket Trail, in this case an interactive trail of themed, painted penguin sculptures delighted summer visitors before the penguins went to auction to raise funds for Maggie's Centre – £540,000 was raised, and the bright, cheerful sculptures are now part of the Dundee landscape, with many being on display in public places.
Falkland in Fife got a makeover for the filming of season four of the popular TV series, Outlander. The story centres on an English nurse who is transported back to Jacobite-era Scotland. Falkland has been used in the series before. It is home to Falkland Palace, hunting lodge of Mary Queen of Scots, and has some 28 listed buildings.  The makeover involved bringing in period props and sets, to make the quaint village look more the part – which, ironically was Inverness, the town for which Falkland stands in as substitute.
And Finally…
The transport company wouldn't have thought it funny, but it was a picture much shared on social media and it certainly caused a lot of sniggering when a car transporter hit a railway bridge in Perth, causing thousands of pounds worth of damage to several brand new Range Rovers. Call it schadenfreude, but the image of the luxury vehicles with their universally flattened roofs looked, well, funny.
Following reports that foodbanks in Levenmouth and the East Neuk were struggling to cope with demand, local hairdresser Craig Boyd was keen to ease some of the burden on hard-pressed parents and carers by offering free haircuts to children whose families needed to use Levenmouth foodbank or clothing bank.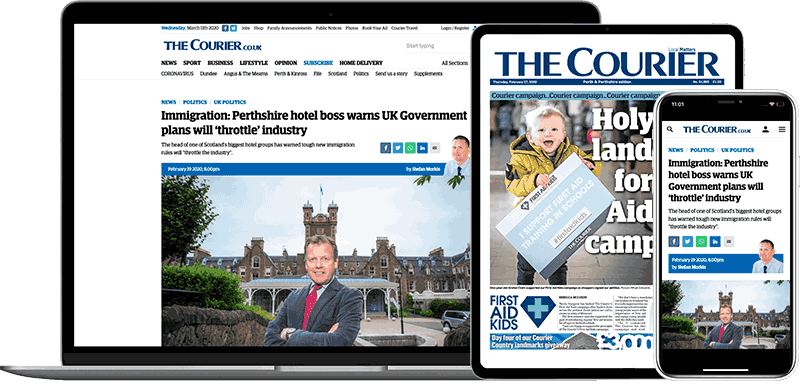 Help support quality local journalism … become a digital subscriber to The Courier
For as little as £5.99 a month you can access all of our content, including Premium articles.
Subscribe