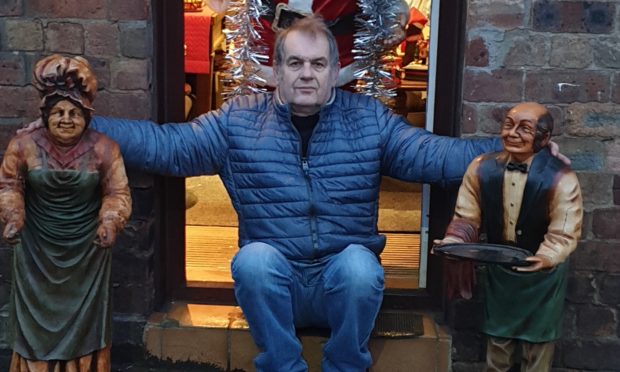 A Dundee antiques store owner said he is delighted after two stolen statues were returned.
Derek Pook, who owns Clepington Antiques and Collectables Centre on Byron Street, was targeted by thieves after featuring on Celebrity Antiques Road Trip earlier this year, when Judy Murray paid a visit on the store.
But just weeks after the episode aired, two collectable statues from the 70s were stolen from the shop front.
Police have confirmed a 45-year-old woman has been charged in connection with the October theft.
The quirky statues, of a waiter and female cook measuring around 3ft tall, were not for sale but were displayed outside of the shop and were very popular with local children.
Mr Pook said his Christmas had been made when police returned the statues.
He said: "The police brought the statues to me on Christmas Eve, so it was a nice early Christmas present for me.
"The statues were really popular with passersby, especially children walking to school.
"The children loved the statues so they will be over the moon to see them back outside the door.
"I'm absolutely delighted they have been returned. I can't wait to get them back out on display when the weather is a bit nicer.
"I would like to thank the police for doing their best and getting the statues back to me."
The statues are well-known to locals, which Mr Pook said he felt had helped bring the them back.
The antiques store is a popular treasure trove in the city and has been based at Byron Street for almost two years. The store was previously based at Clepington Road.
At the time of the theft, Mr Pook said the statues did not hold a significant monetary value, but were of great sentimental importance.
He said: "They are not very valuable, maybe around £60 to £80 each but they're quite rare.
"They're a set and would've been the kind of thing that was quite popular for displaying in shops and outside people's houses in the 70s."
A spokesperson for the force confirmed that the items had been recovered and the woman who was charged is expected to appear at Dundee Sheriff Court at a later date.