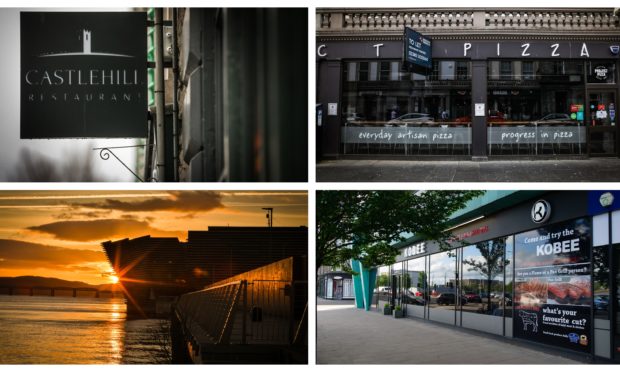 Business owners in Dundee have urged the council to be more transparent with plans to regenerate the waterfront and city centre in the hope it can stem the tide of recent restaurant closures.
Some employers feel the boost the city has seen from the V&A has stalled and have asked for greater clarity on the future of the regeneration project.
It is claimed there has been little progress in other waterfront sites since the museum opened in 2018.
Businesses such as Castlehill Restaurant and Fatburger are among the most recent closures.
Castlehill went on the market last week. Property agent Bruce & Company hope to sell the business for £25,000.
Kobee, on Dock Street, has been closed for several weeks, but the owner will not confirm if it has been permanently shut. He added he will reveal plans for the site later this week.
Thorntons on Murraygate will close its doors on January 25 and retailers Bonmarche and Edinburgh Woollen Mill on Commercial Street are having closing down sales. The latter cites an ongoing dispute with the landlord as the reason.
Fatburger's Akky Hayat, who owns other businesses across the city including German Doner Kebab on Reform Street, went as far as to say Dundee "is not the place to be right now".
Mr Hayat expressed fears for the future of independent businesses in Dundee while making the decision to close Fatburger, resulting in the loss of at least 10 jobs, saying there is not a culture of eating out in the city.
City bosses were hailed in 2018 for creating a "renaissance" on Reform Street after turning around the key street's fortunes.
'Renaissance on Reform Street': How the area once known as Dundee's Savile Row is transforming its fortunes
It has endured mixed fortunes since, with several premises opening but other closing down.
Project Pizza shut in June last year for a "refurbishment" but remains closed, with no sign of work being done within.
City bosses have said they are working on a plan to turnaround the city centre's fortunes.
Ian Alexander, owner of Birchwood Emporium on Commercial Street, wants the local authority to be more transparent with its plans.
While being supportive of the waterfront regeneration, Mr Alexander is frustrated at a perceived stalling of momentum since the V&A opened.
Mr Alexander expanded his business in June when he moved the Heart Space Whole Foods shop on Exchange Street to Commercial Street, rebranding as Birchwood Emporium.
The new store includes a cafe and is four times the size of his previous business.
Mr Alexander is worried about the future of the city having seen some restaurants go by the wayside.
He said: "Independent business are the lifeblood of the city centre.
"We are the ones keeping the city centre alive.
"But many people will have made their decision to open certain places because of all the talk of plans in the waterfront but now that the V&A is open there has been nothing and we are being left in the dark.
"But I know I am not alone in thinking this and I hope we can get some answers."
Mr Alexander is wary of coming across as too negative, stressing he hopes the city centre will fare better but cannot ignore the negative impact of so many businesses closing in recent weeks.
He added: "When I read of places like Fatburger closing it is a gut punch.
"It was my decision to open the business where I did and I own that.
"In the build-up to the V&A opening, the redevelopment was all you would hear about and that's great, but now that it's open there has been nothing.
"I hope a public conversation can be started about what is happening and what can be done to make the city better for businesses."
Wendy Scullin, owner of Madigan's Tearoom and Bookshop on Castle Street, agrees the local authority can do more to promote small businesses but thinks owners need to be more positive about the city's prospects.
She said: "We've been open for about seven years now and the plans for Dundee was a big part of that decision.
"I've been following what's been going on there (the waterfront) since 2001. It always seemed like it would be a long term plan.
"We have noticed an uptake since the V&A opened. I think a lot of business owners need to market themselves to tourists. That's what we've done in tourism publications.
"Having said that, I think there are things the council could do to help small businesses, such as help direct people down the side streets. The pavements here aren't great, but it is one of the best ways to get to and from Slessor Gardens.
"Maybe little signs directing could help. It seems like no money has been spent here compared to Union Street."
Luca Saputo, whose Empire State Coffee on Whitehall Crescent has been doing "really well", thinks people have turned their back on restaurants in recent years in favour of cafes.
He said: "I was in the restaurant trade for years but moved to the cafe business because of my passion for coffee, but I could also see people didn't want to go to restaurants so much so it's not surprising to see so many closing.
"It's probably happening all over and not just in Dundee.
"When the V&A opened we noticed a big boost and the new bus to Edinburgh Airport that leaves near us has been a great surprise for us.
"We noticed a lot more tourists when the V&A first opened, but that has gone away a bit now but that is to be expected."
Labour councillor George McIrvine said: "The recent closure of businesses does have a negative impact in the city with eateries taking a particular hit.
"There does need to be a balance between attracting customers from the local areas as well as tourists.
"With Dundee having one of the highest unemployment rates, many local people just can't afford to eat in some of these establishments that have made the decision to close.
"I know personally of a local business at the heart of the city centre who has really struggled financially over the years since opening and are not yet out of the woods.
"However, they can see a light at the end of the tunnel.
"They tell me one of the main factors is the tourist trade and visitors from Scotland rediscovering Dundee."
Sanat Ghatak, owner of Bangladeshi restaurant, Shaheen on Commercial Street said he is choosing to take the optimistic approach.
Mr Ghatak forked out around £150,000 on the restaurant, bar and takeaway which opened in August.
The premises which employs dozens of staff, including bartenders, chefs and waiters, has found a recipe for success.
The site is a former registration office,  and holds a sentimental value for the the restaurateur, who married wife Donna there over 10 years ago.
Mr Ghatak said: "We are fortunate because our business is really good.
"Our weekends remain really busy and we are always positive of its success for the foreseeable future.
"We have put so much money into making this place a success so it's important to us.
"We are lucky because customers love our food and keep coming back."
Across the street, The Mercantile Bar is under renovation and is expected to open later in the year.
Heineken subsidiary Star Pubs and Bars, who own the premise, previously said it intended to pump £500,000 into the Mercantile and the Gunners Bar in Broughty Ferry as part of a joint investment.
The company has been approached for comment.
Action pledged by council
Dundee City Council has pledged to take action to help the city centre "stay strong" amid a spate of recent closures.
In the face of calls for clarity on the future of the waterfront regeneration, and how it plans to support small businesses in the city centre, the local authority claims a plan is being drawn up.
While no specific detail on the proposals has been divulged, "updated tourism and event strategies" have been touted.
A council spokeswoman said: "We recognise the challenges the city faces and are moving to ensure that the city stays strong and builds on the positive development that has been undertaken.
"To best prepare for future development and investment opportunities, an improvement plan is being developed.
"The improvement plan will identify priority projects which strengthen the city centre's economic, environmental and social sustainability, including the development of key sites, public realm improvements, enhanced traffic management, further pedestrianisation, increased active travel infrastructure and air quality improvements.
"In October (last year), plans for £735,000 of investments in Dundee city centre was agreed which will see additional seating, street improvements and more public art.
"Visitor numbers to the city has increased in recent years, which has led to a 22% increase in hotel stock since July 2018.
"In the coming months we will be bringing forward updated tourism and events strategies that will see us work with both the public and private sectors to make Dundee a better plane for visitors and residents.
"It is within the interest and responsibility of both the public and private sector to ensure the city centre and other key public streets across the city are attractive and vibrant.
"We have established a number of sector initiatives to help and support businesses residing in the Dundee economic region, to ensure that our city continues to thrive and grow.
"If any business would like to understand and get support from the opportunities available, we would invite them to contact the council directly."
However, Birchwood Emporium owner Ian Alexander feels the council need to share details of their plan now to instil confidence among business owners.
He said: "Since the opening of the V&A which is, without doubt, the crowning glory of the city at present, these private sector initiatives are sitting on the sidelines wondering when the rest of the development the city was promised will arrive.
"In the meantime, these businesses are struggling, some have already closed and the general feel about the city centre is that it is on its knees."
Meanwhile, Dundee and Angus Chamber of Commerce feel there is light at the end of the tunnel.
Chief executive Alison Henderson said: "The waterfront and the wider city had had challenges, and macro economic issues like Brexit delays to bringing the city deal investments doesn't help businesses and investors in the city proceed with projects.
"A major attraction like the V&A definitely brings interest, but we need to appreciate that after the first year spike, there's bound to be a settling of visitor numbers.
"Much work has been done to attract events and promote the city by initiatives such as the new food map, as well as maintaining Dundee's profile in ways such as the recent Staycation Award.
"It is definitely important for businesses to come together and feel like they understand what is happening with city and region promotion. Being able to cross promote each other and the offers that businesses have is vital too — working collectively to capitalise on major events like the V&A's Mary Quant exhibition is the way that we can all benefit."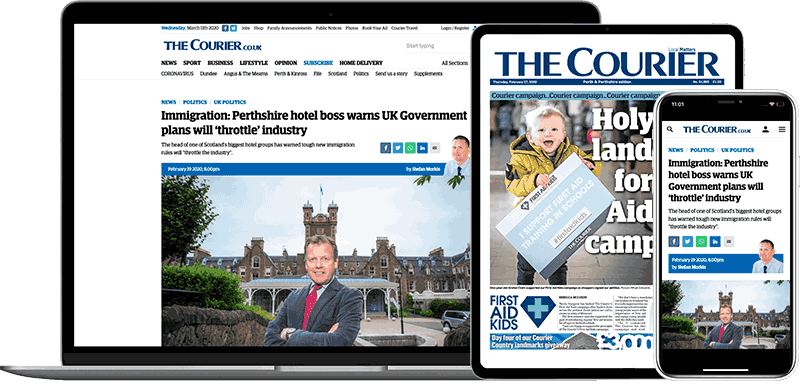 Help support quality local journalism … become a digital subscriber to The Courier
For as little as £5.99 a month you can access all of our content, including Premium articles.
Subscribe