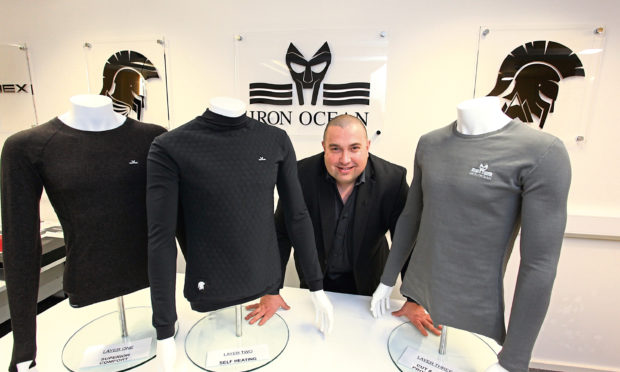 A Dundee man who has developed a garment that instantly heats on impact with water has turned down millions of pounds for his business before making a penny in sales.
Simon Lamont has a vision that one day his survival kit will save lives at sea.
His five year journey to create Iron Ocean has seen him spend £750,000 on research and development and taken him from being unemployed to mixing with millionaire investors.
His potentially revolutionary product is still at the prototype stage and he is now looking to raise £1 million to start manufacturing.
He said: "Like 40,000 others I was displaced from the oil and gas industry during the downturn. I was down to £4.50 in my pocket and not making ends meet.
"At the library one day I spotted an RNLI poster with a guy hanging from a helicopter and it was like a lightning bolt struck me – what happens when he goes in the sea?
"Immersion suits leak, can tear and cold shock can kill instantly. I wondered if there was something better."
He started testing the heat properties of different materials by immersing himself in the River Tay and monitored his temperature using baby thermometers.
With help from academics at Heriot-Watt University he developed a new chemical compound that heats on impact with water that he has embedded in a jumper.
"I didn't want something with wires or batteries, I wanted to develop something that always triggers automatically," he said.
"If a helicopter crashes into the sea, it's not just the cold you have to worry about.
"Hitting the sea unexpectedly when there's wreckage, screaming, panic… getting heat to the body quickly it confuses the brain to not go into cardiac arrest."
Mr Lamont's idea won a series of pitching competitions that ultimately led him to winning a fellowship at the Royal Society of Edinburgh.
He was also accepted into the Oil and Gas Innovation Centre which allowed him to develop prototypes of his Centurion 3 survival kit that has been designed in three layers – the current minimum requirement for offshore workers travelling by helicopter.
It includes a base layer with a new material called carfibex that has superior heat properties to merino wool that Mr Lamont thinks has potential as a standalone product for the outdoor pursuits market.
The second layer contains the chemical that heats while the outer layer is slash, fire and radiation resistant.
Over the last three years he has raised private equity investment of £295,000 towards taking the products into the manufacturing stage. Once he hits £500,000 he will receive match funding from Scottish Enterprise.
Along the way, he has received – and rejected – offers that would have meant him losing control of the company.
"About six months ago a guy offered me £1.5m because he wanted to use carfibex for using horse blankets," he said.
"I know the potential of this product to save lives and there's no way I was going to let it be used for that."
He added: "One VC couldn't believe we'd got to this stage and only spent £750,000 – he said he'd just spent £6m on a golf ball that didn't work.
"It's been a rollercoaster journey but I know that I'm going to get where I need to go."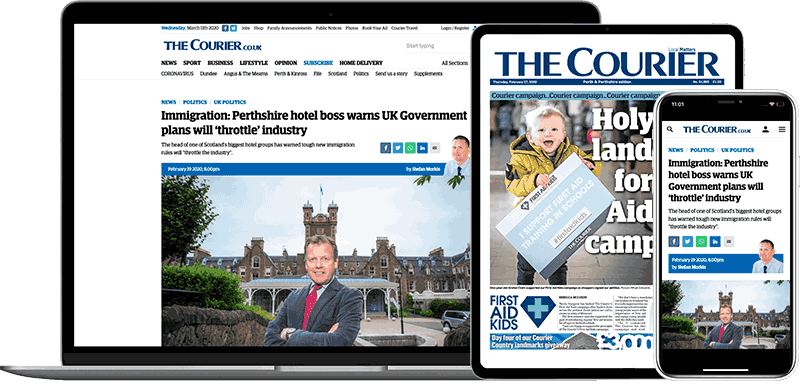 Help support quality local journalism … become a digital subscriber to The Courier
For as little as £5.99 a month you can access all of our content, including Premium articles.
Subscribe