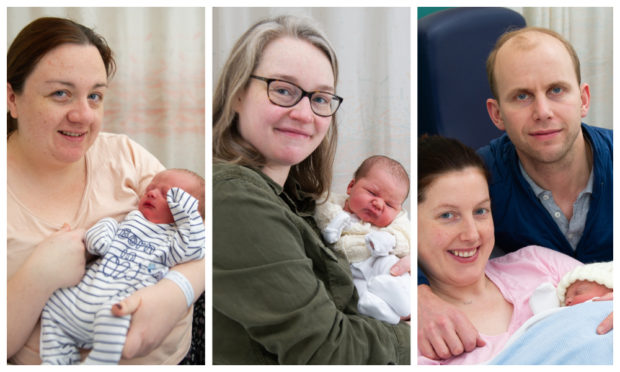 The new decade brought a trio of new arrivals at Ninewells Hospital in Dundee.
Three babies were born in the first hours of 2020 with Kirsty and Douglas Kidston from Montrose welcoming the year's first Ninewells baby at 2.34am.
The wee boy, who has not yet been named, weighed 9lb 1oz.
Kirsty, 31, who manages Montrose's Cats Protection charity shop, said: "He was due on the second but we thought he might come a bit early.
"It all happened quite quickly."
She added: "All the staff here have been so lovely and fantastic. Everybody has been really great.
Next up was Rory Marshall, who arrived just before 3am weighing 7lb 1oz.
He is the third child of Auchterarder couple Katie and James Marshall.
Katie, 29, young carers co-ordinator with Perth charity PKAVS, said: "He was due on the 20th so he is a bit early."
She added she is looking forward to introducing Rory to his big sister Ailsa, who is about to turn five, and brother Blair, who is 18 months old.
Catherine and Ewen Lamont welcomed their son Cailean to the world just after 5am – nearly a month early.
He weighed 5lb 4oz.
Catherine, 33, a physiotherapist, said: "It's an amazing start to the year.
"He was quite early as he was due on January 30 but we came in on Tuesday morning when my waters broke."
Dad Ewen, who is originally from Inverness, works as wine merchant.
The baby boy's middle name is John, after Catherine's father while Cailean is the Gaelic form of Colin, which is Ewen's father's name.