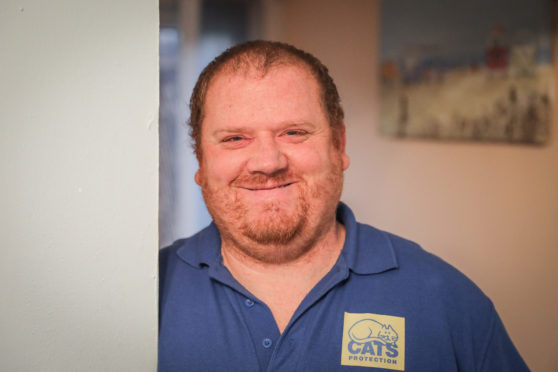 A Dundee carer owes her life to a client who saved her from choking to death.
The full-time carer, who does not wish to be named, was working at the home of her client, 38-year-old James Paul Thomson, when near-disaster fell.
James will receive one of the country's top national life-saving honours for his heroism.
His carer was in the kitchen, about to start her tea, when a piece of beef became stuck in her airway.
She tried to clear it by taking a drink but realised that was not working and rushed into the living room where she managed to make her client understand he should hit her on the back.
He did this several times, partially dislodging the blockage and allowing her to breathe, albeit with difficulty.
She then managed to make him understand more help was needed and he called a neighbour who alerted the emergency services.
She was taken to Ninewells Hospital where it was hoped the piece of meat would dislodge itself naturally. When that failed to happen by the following day, she had to undergo surgery under general anaesthetic to have it removed.
James will receive a Royal Humane Society Resuscitation Certificate for saving his carer, who nominated him for the award, from choking to death during the terrifying June 17 incident.
Humble James, originally from Perth, said that instinct took over to help her.
He said: "It was a bit scary. Her face was blue.
"She was taken to hospital afterwards and she's OK now.
"It's good to be getting the award. The carer is getting it framed for me.
"I acted without thinking. I had to do it but it's good to have saved her life.
"I've never had to do anything like that before."
James, who volunteers at Cats Protection, has also won the personal praise of Andrew Chapman, secretary of the Royal Humane Society.
He said: "Coping with a situation like this is traumatic and difficult for anyone.
"James coped brilliantly and as a result his carer is alive and well today.
"He did an absolutely wonderful job and richly deserves the award he is to receive."
No date has been fixed for presentation of the awards but it is expected to take place in the near future.
The roots of the Royal Humane Society stretch back more than two centuries.
The Queen is its patron and its president is Princess Alexandra.
It is the premier national body for honouring bravery in the saving of human life.
It was founded in 1774 by two of the day's eminent medical men, William Hawes and Thomas Cogan.
Their primary motive was to promote techniques of resuscitation.