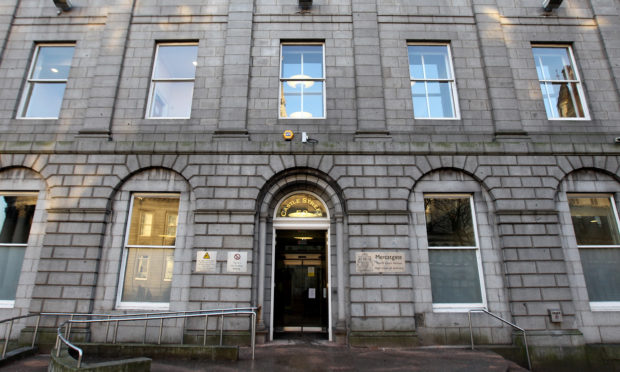 An argument over a mobile phone resulted in a man being stabbed multiple times in the face, neck and body, a court has heard.
Liam Holburn, 26, is accused of attempting to murder Andrejs Sokolovs in a flat in Dee Gardens, Dundee, on April 29 last year.
He is also accused of being in Dee Gardens, despite bail orders barring him from the street, and of carrying a knife there and in other Dundee streets.
Holburn denies the charges.
The jury at the High Court in Aberdeen was told yesterday that if a puncture wound to Mr Sokolovs' right lung had been one millimetre to either side it would have resulted in his death. He also has permanent scars on his face.
The court heard Mr Sokolovs had gone into town with Holburn's then partner Samantha King to buy a phone but the pair returned empty handed. An argument then broke out between Ms King and Holburn and she left through a window at a flat in Dee Gardens.
Speaking through an interpreter, Mr Sokolovs said: "He (Holburn) was very aggressive towards Samantha. I wanted to calm him down and he attacked me with a knife.
"I told him 'calm down please, you can't talk in such a manner to a woman'.
"He had a knife and attacked me with it seven times."
Matt Jackson QC, defending Holburn, put it to Mr Sokolovs that it was him who had brandished the knife initially – a claim he denied.
Mr Jackson also produced a medical report from Mr Sokolovs' visit to Ninewells, which stated he had smelled of alcohol, had taken Valium, smoked heroin and understood English well.
Mr Sokolovs denied smoking heroin or taking Valium beforehand and said: "I was sober that day.
"Possibly I had some drinks the day before it happened."
He also denied he had photos of Ms King on his phone and that this was why Holburn was upset.
"That was a pure lie as I have a girlfriend and that can't possibly happen," Mr Sokolovs said.
During her evidence, Ms King said Mr Sokolovs had at least one photograph of her on his phone.
The court heard she had known Mr Sokolovs for about six months prior to the incident as he lived nearby, and he had previously complimented her appearance.
She said: "He had obviously gone on my Facebook probably to take a photo from there.
"There was no mention of the photograph on that day but we had spoken about it before."
When asked if Holburn had brought up the photo before she left the flat, Ms King said no.
She said it was not unusual for herself and Holburn to argue. They had been in a relationship for about three years at the time of the incident, she added, but they broke up shortly after.
The trial before Lord Kinclaven continues.