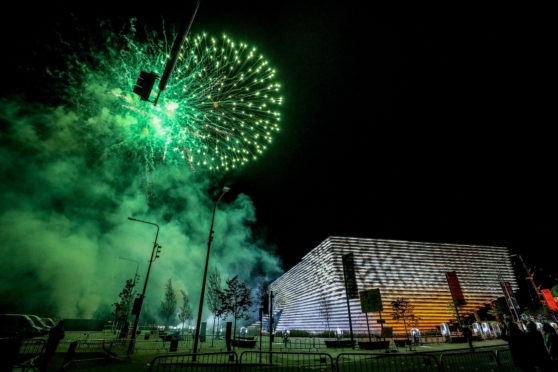 Dundee councillors are calling for new laws to be introduced that would limit the amount of bang fireworks are allowed to provide for their buck.
Coldside councillors Helen Wright and Mark Flynn want the UK and Scottish Governments to limit the maximum noise level of fireworks to 90 decibels – around 30 db lower than the current threshold.
SNP councillor Mr Flynn said the noise of fireworks can cause distress to people and pets.
The current maximum noise level of fireworks is 120 db, which is slightly louder than an emergency siren.
An item to go before Dundee City Council's Policy and Resources Committee on Monday states that while organised fireworks displays at Baxter and Lochee Parks re hugely popular, fireworks also "contribute to increased levels of anti-social behaviour and stress."
The item, which also has the support of Labour councillor Helen Wright, calls on the council to advertise all official fireworks displays in advance so residents can take precautions to protect pets and vulnerable people.
And if councillors vote in favour, it will also compel Dundee City Council chief executive David Martin to write to the UK and Scottish Governments asking them to limit the maximum noise threshold of fireworks to 90db.
Additionally, they want the council to encourage retailers in Dundee to only stock quieter fireworks.
Mr Flynn said: "This motion supported by Bailie Wright is aimed at encouraging people to attend and enjoy the organised events within the city and to help reduce the antisocial behaviour by the misuse of fireworks away from these events mostly in our residential areas.
"With the increase availability of fireworks and the high levels of noise caused by them, there has been a noticeable increase in the antisocial behavioral element which causes distress to many of our citizens and to pets and animals."
Charities such as The Dogs Trust have warned how pets can be upset by fireworks.
In November, a horse even impaled itself on a fence after geting spooked fireworks.
Fireworks can also cause distress for vulnerable people, particularly those with sensitivity to light and noise.
The National Autistic Society has said the "unexpected nature" of fireworks can upset many people with autism.