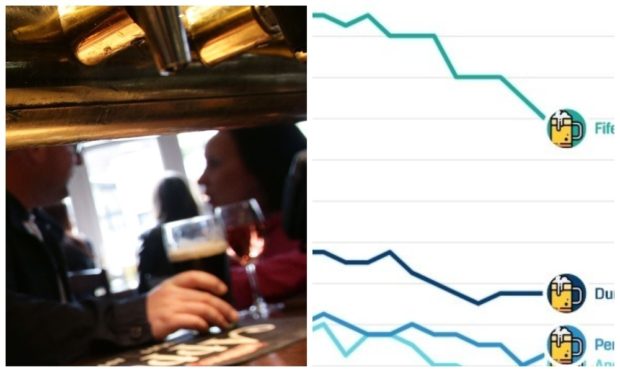 Pubs in Tayside and Fife have been closing at a faster rate than the national average.
Last year the number of small pubs and bars in Britain increased slightly for the first time in 15 years, by 85 but according to data from the Office of National Statistics,  across Scotland, there are 455 fewer bars than a decade ago and 760 fewer than in 2001.
A graphic showing the extent of the closures is below.
Among the pubs in Tayside and Fife that have closed in recent months include Drouthy Fox in Dunfermline, The Green Room in Perth and Westport Bar in Dundee.
Fife has seen the largest decline in Courier Country with a 25% decrease since 2009. The national rate is 13.8%. Dundee (16.7%) and Perth and Kinross (21.1%) were well above this.
Only Angus has seen a below-average fall in the last decade, with 6.3% fewer pubs.
Since 2001, all the council regions in Tayside and Fife have lost at least a quarter of their pubs.
The worst hit area in Scotland is the Orkney Islands, which has lost half of its pubs since 2009.
Paul Waterson, spokesman for the Scottish Licensed Trade Association, said a number of factors have had a detrimental effect.
He said: "For many years we've seen a lot of pubs in Scotland closing.
"There's a whole host of reasons why, going back to the smoking ban, which we never really recovered from, and the drink driving changes.
"And the latest business rates have hit the trade really hard.
"Off sales make up most alcohol sales now, and most of that is supermarkets who have been essentially giving it away to get people in their doors.
"Rural areas have been hit particularly hard, where a pub really can be the heart of a community.
"Hotels, restaurants and pubs can be the saviour of a lot of high streets. If something isn't done soon we will lose the industry."
Colin Boyle, membership secretary for Fife Licensed Trade Association, said business rates is one of the main issues.
He said: "Every month we have a meeting and every time there is someone saying a pub somewhere in Fife has closed or is looking like it will close.
"Look at Newburgh, there used to be five or six pubs there but now there is only one. Some owners are paying more in business rates than they are paying themselves.
"Compared to other businesses, the rates are astronomical and each place that closes is more jobs lost. Most bars are singled manned now in order to keep the business viable as it is."
Richard Davies, creative director of Dundee licensed premises Abandon Ship, thinks businesses need to adapt to the "changing habits" of customers.
"You can't just have 10 boozers lined up in a street offering the same thing anymore," he said.
"I think people are looking for a more experiential thing. Having a really interesting food menu is important as well. Places need to adapt to people's dietary habits.
"People are willing to spend more money for good offerings. We're looking to create 10 bars across the UK."
Drinkers in Dundee say it would be sad to see the current trend continue.
Ralph Leith, 52, said: "I think the overheads are too high. And from I have been told, brewers tie bars into deals that aren't good for them, but they need to agree to them to have the stock.
"I would like to see more done to support bars."
Sandy Brown, 81, will often spend an afternoon in a city centre pub for a tipple with his wife Margaret.
He said: "There used to be a lot more in the city. If you were going to meet someone, you would meet them in a bar but I think there is less of that now."
A Scottish Government spokesman said: "Local pubs play an important social role in many communities across Scotland, which is hwy we are supporting town centres – including pubs – as they face the challenge of changing and evolving customer patterns.
"Our £50 million capital Town Centre Fund 2019-20 enables local authorities to stimulate and support economic investments which encourage town centres to diversify and flourish, creating footfall through local improvements and partnerships.
"We have also implemented a number of bold and UK-leading health policies, including banning smoking in public places, introducing a minimum unit price for alcohol and lowering the drink drive limit, and we are now seeing the positive impact of these steps."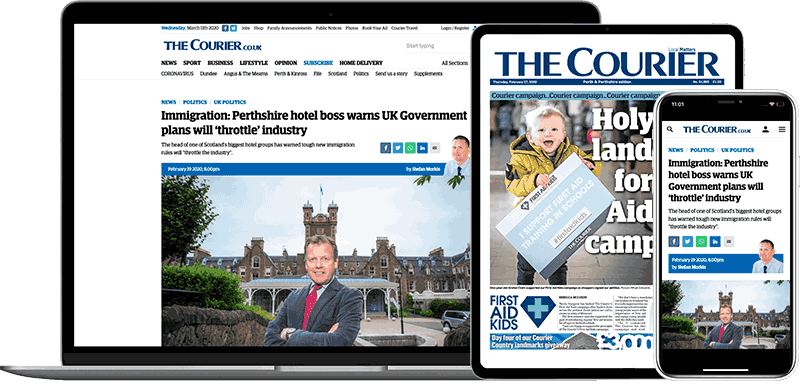 Help support quality local journalism … become a digital subscriber to The Courier
For as little as £5.99 a month you can access all of our content, including Premium articles.
Subscribe