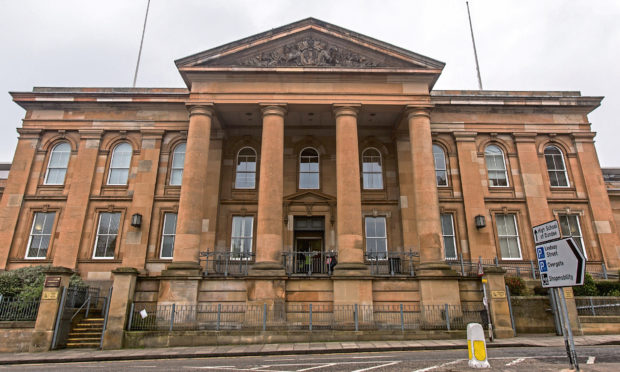 A man who went on a spray-painting rampage through the streets of Newport and Dundee has been given a chance to work with mental health services.
Keven Murray caused damage to buildings in Newport between March and October 2018, scrawling the letters BTS across walls in the town.
He pled guilty to spray-painting a wall on Robert Street on March 18.
Murray, of Royal Buidings, Newport, then maliciously wrote on the Rio Youth Centre on St Mary's Lane sometime between June 11 and 12 2018.
Between September 10 and 11 of the same year, he sprayed paint on the side of a building and gate at a property on Tay Street.
The 26-year-old also painted over a mural at the same property between October 11 and 12 2018.
In Dundee, he spray painted three residential properties on Frederick Street between April 28 and May 6 2019.
He did so whilst on an undertaking to appear at Dundee Sheriff Court on May 30.
Between May 2 and May 11 he also sprayed graffiti on a residential property at Muirfield Crescent.
Murray was said to have failed to complete a community payback order imposed in relation to a conviction for producing cannabis at Pitalpin Court on December 5 2016.
But solicitor Anika Jethwa said Murray has successfully stuck to a curfew prohibiting him from going out after 6pm while awaiting sentencing.
Sheriff Lorna Drummond revoked the community payback order and admonished him on that charge.
She said: "You have been on a curfew since May last year, which in itself has amounted to some punishment.
"I'm going to defer sentence on the other matters for six weeks for you to continue to engage with mental health services.
"My hope is that I can then impose a restriction of liberty order."
Murray is due back in court for sentencing on February 26.
The Newport community expressed outrage when a number of buildings in the town were vandalised, branding it "the worst graffiti yet".
Andy Gillies, chairman of Newport, Wormit and Forgan Community Council, said: "I'd had two phone calls from people and when I went along for a look myself, it was just really disappointing.
"We recently won Rising Star at the High Street Awards, which was brilliant.
"Newport is on something of an up and we're really trying to make something of it – then you get something like this."