V&A Dundee has created £75m economic boost – more than double what was anticipated, says study
The V&A's economic impact in Dundee was more than twice that first anticipated, new figures have shown.
As well as bringing £21 million to the local economy, the iconic building created a £75 million economic boost across Scotland in its first year, according to new research.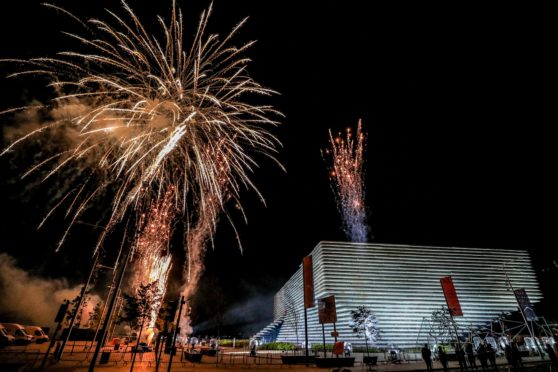 V&A Dundee commissioned Ekosgen and Reference Economic Consultants to examine the impact the museum has had both in the city and across the country.
It found an extra £21 million was added to the Dundee economy and more than £50 million further afield in Scotland during the 12 months since the museum's September 2018 opening.
Initial predictions were more conservative, with impacts of £10 million in Dundee and £23 million across Scotland expected in the first year.
A goal of 500,000 visitors before September 2019 were quickly smashed, with 833,015 people passing through the doors of the Kengo Kuma designed structure in its first year.
V&A Dundee smashes visitor number estimates in first full year
Of those visitors, 31% were staying away from home for at least one night, implying money spent in nearby pubs, hotels and restaurants that would not have otherwise passed through Dundee tills.
More than half, 69%, said they would not have visited other Dundee businesses had it not been for the V&A.
An estimated £32 million was spent on Dundee businesses in the year by museum visitors.
The extra cash has supported an equivalent of 696 jobs in Dundee and 2,143 across Scotland and an estimated 370 additional jobs have been created since the opening of the museum.
The good times appear set to continue, with 79% of visitors saying they were likely to return.
Philip Long, V&A Dundee director, said the research shows "how very powerfully" the museum is making an impact.
"It demonstrates the value of investing in world-class cultural centres to boost tourism and create jobs, as well as the essential contribution the museum is making as a cultural institution promoting design creativity."
Tourism is now worth more than £10 million a month to Dundee according to a council report.
V&A Dundee brings more than £10 million to Dundee economy in seven months
As well as the economic plaudits, the building has been used for filming for HBO series Succession and appeared in a number of travel publications such as Lonely Planet.
Pamela Reid, Ekosgen director, said: "V&A Dundee has had a remarkable performance in its first year, far exceeding its estimated visitor numbers and generating a much larger economic impact for Dundee and Scotland as a result.
"This achievement should not be understated.
"The museum has attracted new first-time visitors to the city, many of whom would not have visited Dundee without it.
"There is also evidence that a substantial proportion of people who have visited V&A Dundee are likely to return, which is extremely positive and an important indicator of sustainability."
While there has been praise for the £80 million museum, some criticism has been levelled at a perceived lack of momentum in the wider waterfront regeneration project.
The only major development that has seen meaningful progress since the V&A opened is the contentious Site Six office block, which remains empty since construction was completed last year.
No tenant for controversial Site Six office block as developer hands over building to council
Plans for an urban beach moved on slightly last year but questions have been raised about a proposed development at the Yeomon Shore car park which has seemingly been delayed.
Against a backdrop of a spate of closures in Dundee city centre, some local business owners have asked for clarity on the future of the regeneration plans.
LONG READ: Eight Dundee businesses closed or under threat… has 'V&A effect' stalled?