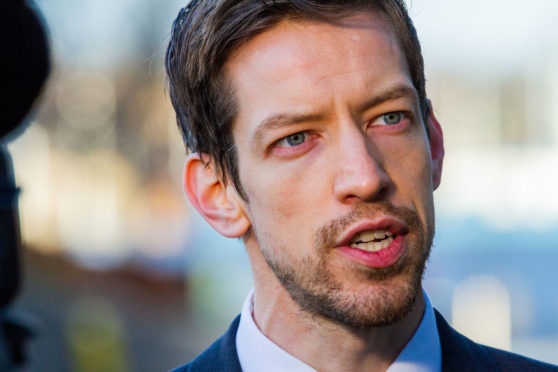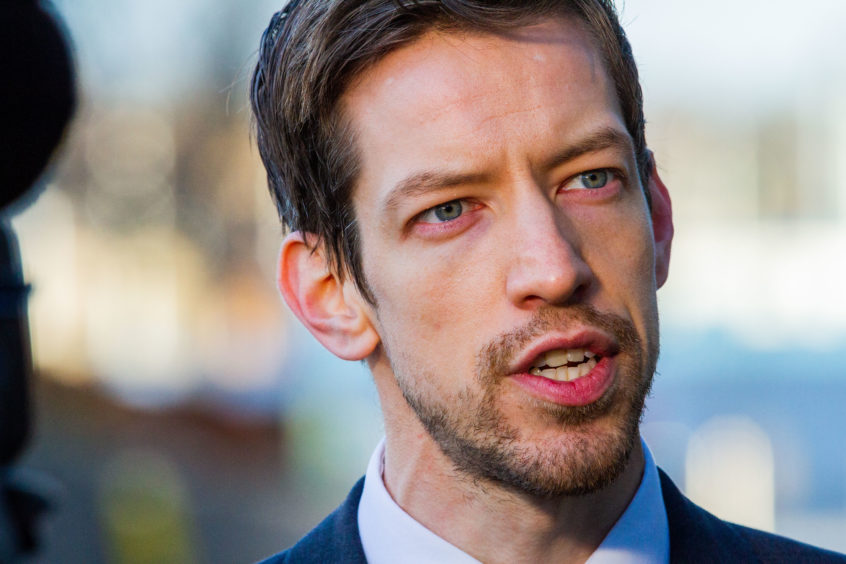 New figures ranking Scottish local authority areas based on quality of life have been dismissed as "not necessarily robust".
The data by Bank of Scotland ranked Dundee City at 29th of 32 districts for 2020, ahead of only North Ayrshire, Inverclyde and Glasgow City.
The index rates factors such as house prices, educational attainment, weather and general happiness to rank council areas every year.
Last year, Dundee was ranked 27th.
The City of Discovery even lost its rating as Scotland's sunniest city, to Aberdeen, although it did have the lowest amount of rainfall – 804mm – the only one of  26 indicators in which it was deemed to be best.
OPINION: As an outsider, this is why I chose to live in Dundee over Perth
Dundee City Council leader, John Alexander argued the data does not necessarily provide a "wholesome" picture of quality of life.
He said: "We should always analyse such surveys to see where we can improve but we also shouldn't add a huge amount of weight.
"One of the 26 indictors relates to the number of pubs per 10,000 population. The more pubs, the better according to this survey. This is seen as a positive indicator where as in a city with issues related to higher than average alcohol intake, I'm not sure that should be seen as a positive indicator.
"Matters like population density in a city like Dundee of only 24 sq/m are obviously significantly different to the Western Islands, I'm not sure that provides a wholesome picture of life.
"All in all, it's interesting but not necessarily robust."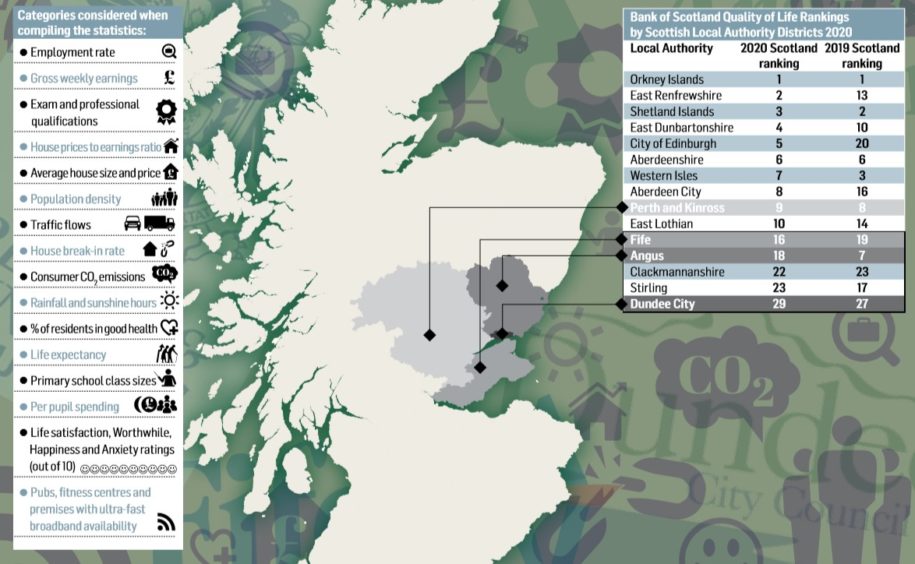 Perth and Kinross was the only council region in Tayside and Fife which ranked in the top 10, at number nine – down one place from 2019.
It was found to have the most health and fitness centres per head of population, with 3.3 centres per 10,000 people.
MSP for Perthshire North, John Swinney expressed his pride in the area.
He said: "As an MSP based within this region, it is a great source of pride that Perth and Kinross has been recognised as one of the top ten Scottish areas to live in.
"The high quality of life enjoyed here is in no small part down to the affordability of homes, the significantly improved access to broadband, and declining levels of crime over the past decade."
Elsewhere in Courier Country, Fife and Angus both placed in the top 20 at numbers 16 and 18 respectively, although Angus suffered a drop from 2019's number seven slot.
Fife climbed the table from 19 last year.
Orkney retained its top spot, while Edinburgh was the biggest climber, from 20 to five.
The top five Scottish locations also appear in the UK top 100.
Tara Foley, Managing Director of Bank of Scotland, said: "The Scottish locations that make it into the UK's top 100 showcase the diversity of Scotland from the dramatic beauty of its remote islands to the impressive architecture of its historical cities and easy access to vast green space and rich country parks from the surrounding suburbs."
At a UK level, East Hertfordshire in the East of England took the top spot overall this year, followed by Fareham and Hart, both in South East.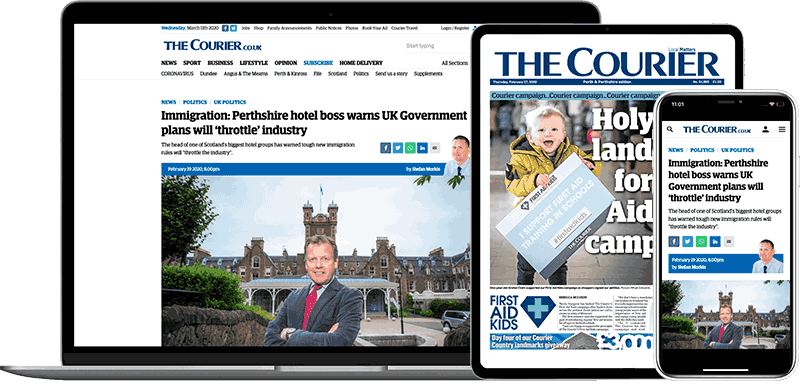 Help support quality local journalism … become a digital subscriber to The Courier
For as little as £5.99 a month you can access all of our content, including Premium articles.
Subscribe