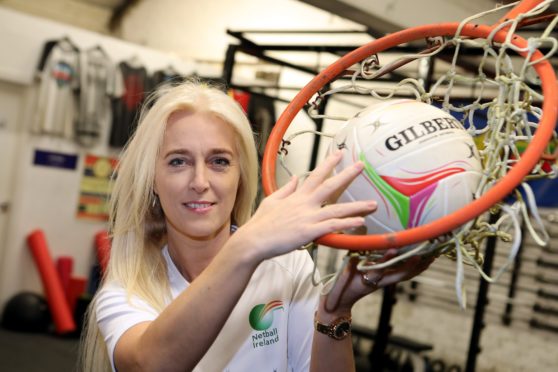 A Tayside netball player has proved age is no barrier to following your dreams after winning a place on the Ireland national netball team at the age of 48.
Teresa Page  has become the oldest player on the team and wants to encourage others to pursue their goals no matter their age.
The Angus Council worker and mother-of-two trains with Tayside Netball Team (TNT) at Grove Academy and also works out at the Warehouse Gym in Abroath, which she helps to run with her husband Lee.
When she was a teenager Teresa played basketball for Ireland and won the Cork Young Female Basketball Sport Award.
She moved to Scotland 29 years ago and took up netball as a hobby in her late 30s on the recommendation of a friend.
She said: "I've been playing netball for 10 years but didn't realise quite the level I was at.
"My coach, who plays for Gibraltar, suggested I try out for the Irish team, so I did.
"In January I was told that I'd been selected. I'm absolutely thrilled. I'll be going over to Ireland for training sessions and to do two competitions in May."
She said strength training at the gym had been crucial to keeping her fit enough to compete on the world stage.
"I'll be the oldest on the team – the oldest woman other than me is 37 – but when I get out there I don't think about my age, I just do what I have to do," she added.
"It does take a lot of work to be able to jump around and give girls half my age a run for their money."
Teresa's netball career and travel to Ireland is all self-funded.
She said any sponsorship from local businesses would be welcomed, although she is also planning to do her own fundraising.
She added: "It's all going to get very busy.
"I also work four days a week and have two children aged 14 and 19, so it's a lot to juggle.
"But I want to show people that you can do anything you put your mind to at any age.
"At TNT we have young girls and also women in their 50s."