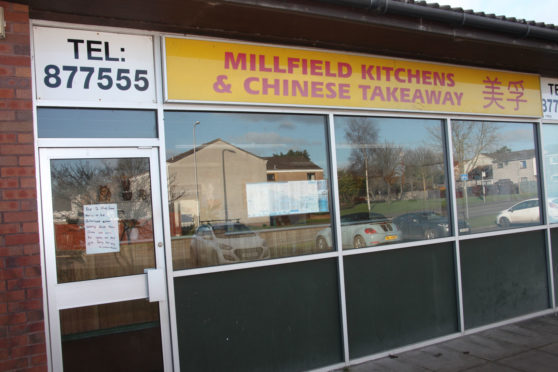 A Chinese takeaway in Arbroath has temporarily closed after staff quarantined themselves over coronavirus fears.
Millfield Kitchens and Chinese Takeaway will remain closed until February 18.
A note on the window advises customers that the employees have taken a decision to out themselves in quarantine after returning from a trip to China, where the virus has spread.
The measures were taken as a precaution. The staff members had not visited parts of the country that are affected by the disease.
A spokesperson for the restaurant said: "We have volunteered to 'self quarantine' after coming back from China as the UK government have advised even in areas not affected in China.
"We do not have to quarantine ourselves but we have read the UK government notice to better self quarantine as a safety precaution and to give friends, families and everyone around us a safe peace of mind.
"We also called the GP for their advice and they have said we do not have to quarantine ourselves if we have come back from a non-affected area in China but we have done so to keep our mind at peace and be safe reliable to all our customers."
So far 38 people have been tested for the potentially deadly illness in Scotland, but there have been no confirmed cases.
Three people have been infected with the virus across the UK  and five Brits have been struck down with the disease at a French ski resort.
Coronavirus has killed more than 700 people across the globe, and has spread to over 20 countries.
Earlier this week the UK Foreign Office urged British nationals to leave China.
A Scottish Government spokesperson said: "Self-isolation of people returning from an affected area is entirely standard practice in a virus outbreak such as this and follows the same well established health protection procedures in place elsewhere in the UK and in other European countries.
"It is proven to be effective in reducing the risk of any infection a patient may be carrying passing to others.
"The NHS is well prepared and has a proven track record of dealing with these types of outbreak.
"There remain no confirmed coronavirus cases in Scotland."