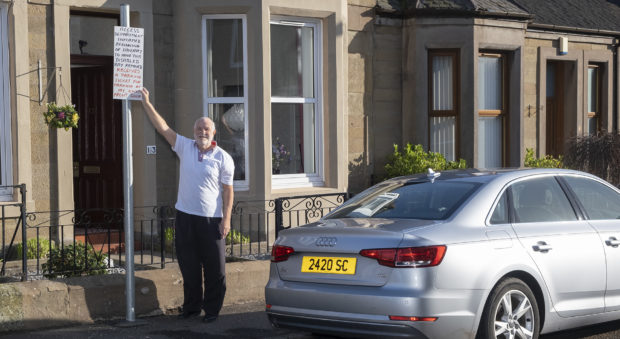 An elderly Angus man grieving the loss of his wife has claimed a series of "ludicrous" disabled parking bay errors left him exasperated.
Arbroath man Alexander Cowie, 80, was slapped with a £60 fine for parking in his own space and claims lines were repainted instead of being removed.
The pensioner alleges the problems started after requesting a disabled parking bay be removed from his Howard Street home several years ago.
He was no longer entitled to the space after his wife Sandra, 75, passed away from vascular dementia on Christmas Day 2017.
Alexander, who served in the Merchant Navy and worked as an engineer, said he was left amazed to receive a penalty notice for continuing to park in the space without a disabled badge but before the lines had been removed.
The council say that, after the circumstances were understood, the fine was waived.
Alexander said: "I thought I should be honest and inform them straight away that I was no longer entitled to the space.
"These things you just assume will run smoothly.
"They told me they could only cancel the parking ticket if I stopped parking outside my door in the space until the lines were removed, which I reluctantly agreed to do.
"It was ludicrous and very frustrating."
Much to his confusion, he claims when workers came to remove the lines around three weeks later, they instead gave them a fresh lick of paint.
Alexander, who also ran his own business as a wholesale confectioner, said: "I couldn't believe what I was seeing.
"They insisted that their paperwork said it was to be repainted.
"After complaining to the council, they again promised to sort it out as soon as possible.
"The same workmen came back a few days later and finally removed the lines but when I asked them to take away the pole which displayed the disabled sign, they said I would need to contact a different department.
"To this day, the pole is still in place outside my house.
"With this type of thing going on, it's no wonder the council are short of money."
An Angus Council spokesperson said: "When we were informed of the sad passing of Mrs Cowie, a public notice was erected to say that the disabled bay would be removed after April 2018.
"A valid Blue Badge must be displayed when parking in disabled bays.
"The disabled bay remained active until it was removed and parking without a Blue Badge would incur a penalty notice, however given the circumstances, this was cancelled.
"The sign pole for the disabled bay remains in-situ. The pole does not constitute a hazard and so there are no plans to remove it at the moment."