VIDEO: Dundonians give CBD a big thumbs-up amid Government plans to take it off shelves
The people of Dundee have given CBD products a big thumbs-up as the Government plans measures that could see it taken off the shelves.
The Food Standards Agency (FSA) has warned businesses selling products containing CBD (cannabidiol) that goods could be taken off the shelves if those in the industry fail to give more information about the safety and contents of their products by March 31 next year.
The regulator has also warned pregnant women, breastfeeding mothers and people taking medication not to eat foods containing an ingredient derived from the cannabis plant.
In its first ever safety advice to consumers on CBD (cannabidiol) products, the FSA also cautions others who might eat such foods not to have more than 70mg a day.
Extracts of CBD, a chemical found naturally within the cannabis plant, are contained in a range of products including oils, confectionery, and drinks.
Video of people in Dundee giving their views on CBD is above this story
The Courier asked people in Dundee what they thought about CBD, which is stripped of the psychoactive THC element that attracts recreational users,  and most were in favour of keeping the existing relaxed regulations.
Charlotte Elder, an employee of dedicated shop CBD Infusions, in Douglas Court, suffers from anxiety. She said: "I vape it and I just find for me it relaxes my brain enough so that I can take a minute to be like 'hold on what are you anxious about?' because anxiety is interpreted as a physical threat or some kind of threat.
"So my body being calm enough gives my brain  a second. I can't give CBD all the credit though because I was doing therapy too but the CBD helps when I am in situations where I can't use the CBT coping strategies."
The 25-year-old spoke about the crippling effects of anxiety.
"I wouldn't go places, nine out of 10 things made me feel anxious," she said. "It made me feel useless. I couldn't even go shopping because 'what if I had a panic attack?', it's just the feeling of uncertainty.
"You could be hyperventilating and people take a step back and you realise people's reactions so you just don't want to go anywhere.
"My anxiety was at a level where anything could make me panic, pretty much. I just couldn't do basic things, going into town with all the noise, all the business.
"It made me lose my independence. Going to therapy was the first step and I use those coping strategies first but if all else fails. I use the CBD to take a breath.
"After eight or nine months I definitely notice a difference."
"I am still an anxious person, I will go home and and worry about for example going to the dentist. I will be worried about that for days and days and days.
"But the CBD helps me get through the day to day tasks. The medication I was prescribed was way too strong, I felt almost not in control.
"Whereas, with CBD I don't feel like my judgement is impaired. With the medication I did. I felt really drowsy and out of it and I don't want to feel like that."
Many others in Dundee saw the virtues of CBD.
Ashley Todd, 48, of Dundee, said: "A friend's young daughter had cancer and it got to the point when she was unable to have chemotherapy treatment because her blood levels weren't right so they managed to get some cannabis oil and her blood levels elevated and she was fine."
Ian Moss, 37, of Dundee, said: "I got arthritis from an early age. It's helped me with that, and helps alleviate some of the pain.
"It's helped me to reduce painkillers so has had big benefits. It has no psychoactive effects so you are able to go about your daily business."
Robbie Davidson, 39, of Perth, said: "I don't think there is any problem with CBD oil. It's a natural product that is helping people.
"I don't know why it needs to be outlawed. It should be regulated to some degree but I don't think it should be banned, especially as it is natural."
The FSA says businesses need to submit, and have fully validated, novel food authorisation applications by 31 March 2021. After this date, only products for which the FSA has a valid application will be allowed to remain on the market.
FSA chief executive Emily Miles said while such products are "widely available on the high street" they are not properly authorised.
"The CBD industry must provide more information about the safety and contents of these products to the regulator before 31 March 2021, or the products will be taken off the shelves," she said.
"Also today, we are advising that CBD could be risky for vulnerable groups, and suggesting an upper limit of 70mg a day for everyone else taking the product.
"The actions that we're taking today are a pragmatic and proportionate step in balancing the protection of public health with consumer choice. It's now up to industry to supply this information so that the public can be reassured that CBD is safe and what it says it is."
Ian Thomson, owner of CBD Infusions, said: "Cannabis products have been used for thousands of years.
"CBD has already been tested for human consumption, including all of our products which have gone through fully compliant lab controls."
While the FSA has issued guidance, which applies only to England, Wales and Northern Ireland, it is local authorities which have the power to enforce the novel foods legislation.
Professor Alan Boobis, chairman of the committee on toxicity – which advises the FSA and department of health, said while the risk from CBD is not certain, the agency's approach is a "sensible and pragmatic" one.
He said: "My committee has reviewed the evidence on CBD food products and found evidence there are potential adverse health effects from the consumption of these products.
"We are particularly concerned about pregnant or breast-feeding women and people on medication.
"We don't know enough to be sure about such a risk but I am pleased with the sensible and pragmatic approach the FSA is taking. The committee will continue to keep these products under review in the months ahead."
Last Thursday's announcement does not affect people who take medically prescribed CBD or cannabis, the FSA said.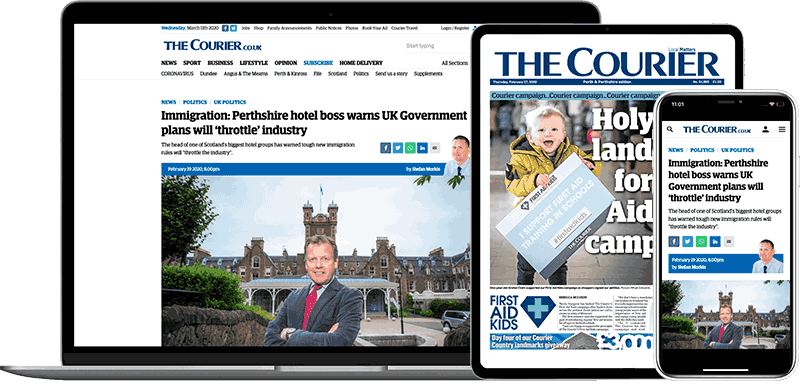 Help support quality local journalism … become a digital subscriber to The Courier
For as little as £5.99 a month you can access all of our content, including Premium articles.
Subscribe