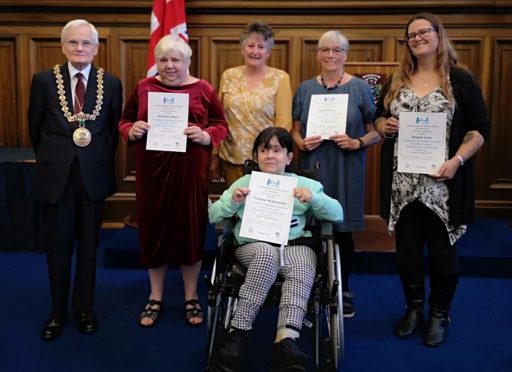 Employees working at a Dundee charity have voted to strike amid a dispute over holiday entitlement.
Staff at Dundee Independent Advocacy Support (DIAS), based at The Circle on Staffa Place, unanimously backed industrial action to take place in early March 2020.
Unite the union, which is representing employees, say the dispute centres on an "enforced change to terms and conditions" effecting Unite's membership at DIAS.
It said this includes the removal of holidays which were previously given instead of an annual pay award.
The charity, which currently employs seven people, supports people who are  experiencing disadvantage, disability and social exclusion.
Unite regional industrial officer, George Ramsay said: "Unite's membership at the DIAS have unanimously voted to take industrial action.
"The facts, which can't be disputed, are that these dedicated workers who provide services for vulnerable people including those with dementia have had changes imposed to their terms and conditions.
"Any suggestion that there has been a consultation with the workers is deliberately misleading.
"The real picture is that the workers were told that this was going to happen whether they liked it or not."
He added that the union believed the proposals will result in the removal of holidays which were given instead of an annual pay increase.
"This is completely unacceptable to Unite's members," he said.
"The DIAS are an organisation which claims to pride itself on caring for people instead they are showing a distinct lack of care for their workers.
"With the way mental health services are in Dundee any industrial action solely caused by DIAS would add further pressure on people relying on these services."
A spokesperson for DIAS said: "We are deeply concerned  that staff members have voted to take strike action and we wish to assure the public,  and in particular the people requiring our advocacy  services, that our priority remains to support them.
"Anyone with worries about their case should contact our office on 01382 205515.
"The dispute focuses on annual leave entitlement.  We have proposed that DIAS reduce its current annual leave entitlement of over 8 weeks per annum, to 7 weeks per annum.
"This is still 1.7 weeks more than the Government statutory minimum and significantly more than many people receive.
"The consultation to reduce holiday entitlement has included a financial offer to compensate for the loss.
"The reason we have had to look at reducing holiday entitlement is that we simply cannot meet our service commitments with the levels of holiday currently enjoyed by our staff.
"Not all staff have refused to enter consultation on this process.  Those who have, have accepted the change, and the compensation.
"We and the people we support are indebted to them."