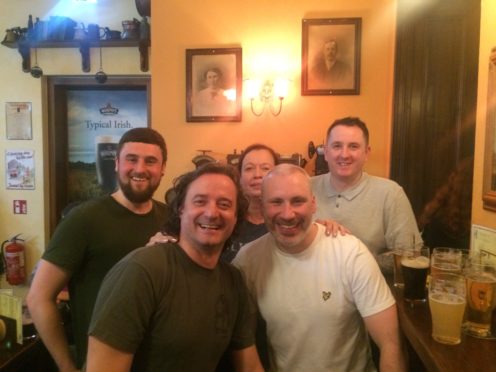 A group of Tayside pals took back more than just sore heads when they travelled to Germany for a stag do.
During their weekend trip in April last year, Dundee police officer Scott Peters and friends struck up a bond with a group of Borussia Dortmund fanatics after a match.
Following a memorable night, the new-found friends made arrangements to meet again and stay in touch.
And now Scott is looking forward to showing the Dortmund fans around his hometown as they head to Scotland for the Dundee vs Dundee United match on April 24.
Together they will make up a 29-strong group at the city derby, adding a continental tone to the chorus of voices cheering on the Dark Blues.
Among the German group will be Michael Schroder, a tour guide who has been to Scotland several times but has yet to visit Dundee.
Michael said: "We met this wild group of Scots after a thrilling game with Hertha BSC and Borussia Dortmund by accident. We all made plans to meet the next day as well and this friendship came about and we all kept in touch online.
"Now there is this group of Scottish guys who are Dortmund mad and go to games with Borussia Dortmund scarves.
"Two weeks after we met, a package came through the post full of Dundee FC scarves and tops so now we are all fans of the team.
"We decided to make the effort to come see a derby game in Dundee and we are really looking forward to seeing our new friends again."
Among the Germans will be online entertainer Borussen Bernie — whose YouTube account has about 50,000 followers.
The account started anonymously, with Bernie commentating on Borussia Dortmund matches in a unique comedic style.
Bernd Moller had to unveil himself as the man behind the account after it went viral and others tried to take credit for his work.
The online star now has his own line of merchandise, including mugs and clothing.
Michael added: "Bernie is a great guy and very funny. His work has gone viral in Dortmund.
"It is very specific to Dortmund, even people from other places in Germany don't quite get it, but he's a very fun guy."