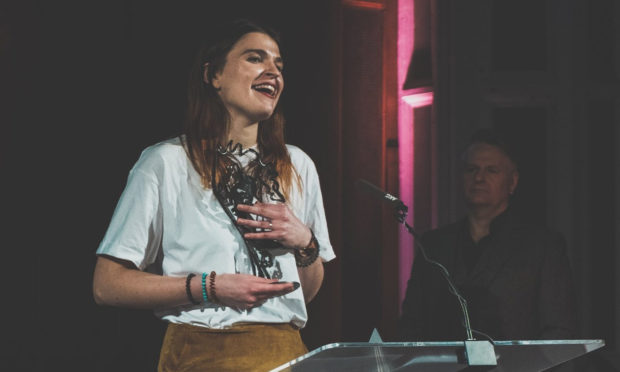 A pair of Dundee-based students have triumphed in one of Scotland's most fiercely-contested arts prizes.
Duncan of Jordanstone College of Art and Design student Abriele Skaite, 25, paired up with Dundee University writer Thanos Kyratzis, 24, to win the £7,500 John Byrne Award 2020.
The pair won for Borders, an illustrated book based around interviews with migrants and refugees.
Writer Thanos has lived in Greece, Scotland, Spain and Germany, while illustrator Abriele has lived in Lithuania, Morocco and Scotland.
Thanos said: "Borders started as a discussion of things we have in common but each understands differently.
"Everyone had an opinion on the issue, whether that stems from their own lives or from the experiences of people they know.
"It is a project that surprised us many times as we were making it, and will hopefully surprise its readers just as much.
"It reflects the views of different people in today's world, and poses interesting and necessary questions for the future."
Both used their own personal experience as migrants to create the book, which contains 15 illustrated interviews on the theme, with people whom Abriele and Thanos met while living in Scotland.
The pair put the book on online funding portal kickstarter at the start of February and it has attracted more than £2,400 from around 120 backers.
Borders triumphed over thousands of rivals to take the top prize at a star-studded event in Edinburgh last Saturday, hosted by BBC Radio Scotland's Vic Galloway and attended by 1,000 guests.
Scottish actor Freya Mavor, best known for appearing in E4 hit drama Skins, presented the prize, named after artist and writer John Byrne.
Niall Dolan, CEO of The John Byrne Award said: "The response to this year's competition was phenomenal with entries received from every part of Scotland, and the quality, depth and diversity of work was notable.
"We extend our congratulations to Abriele and Thanos and thank them for sharing such a thought-provoking and timely piece of work.
"Inclusivity is the ethos of The John Byrne Award and we are delighted the competition enjoys such high levels of respect and resonates with so many people."
Entrants were judged by a panel of high-profile names including photographer David Eustace, Kelpies sculptor Andy Scott and human rights lawyer Aamer Anwar.
Acclaimed painter John Byrne is  the author of play Slab Boys and 80s TV hit Tutti Frutti.
He said: "Hopefully it will encourage those who are unknown to keep going at whatever they are doing."