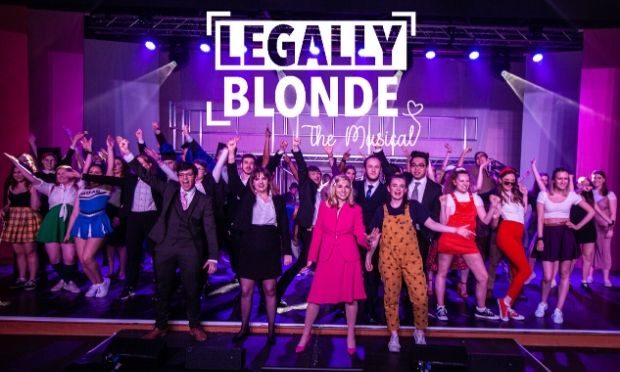 Dundee University Opsoc make the audience laugh, gasp and cry with their fabulous 2020 show: Legally Blonde The Musical.
I love it when March rolls around each year, because it means it's time for Opsoc's annual musical. As an ex member of the society, I always look forward to their productions. Not only do they bring back fond memories but also some much-needed lightheartedness to break through this dreary weather.
If you haven't seen the film version of Legally Blonde, the story goes like this: A ditsy sorority girl is dumped by her soon-to-be-lawyer boyfriend and, in a ploy to get him back, manages to blag her way into Harvard Law School. Although initially mocked for her pink clothes and bubbly manner, throughout the course of the show she transforms herself into a respected lawyer, winning a high-profile case and several hearts along the way.
The show's opening number, "Omigod You Guys" catapults you straight into sorority life, with sassy performances from the principle Delta Nu girls and chorus. It's never an easy job to be the first person to sing in a show but Melissa Tavendale (playing Margot) absolutely nails it with great vocals and bundles of enthusiasm.
The number ends with leading lady Elle Wood's entrance. Emma McFarlane did an absolutely incredible job with this role. Emma is a triple threat – not only does she have an incredible vocal range, but impeccable comic timing and fantastic dance skills to boot. She embodies the essence of Elle perfectly and truly is the shining star of this production.
The next scene sees Elle surreptitiously dumped by her Ivy League boyfriend, Warner Huntington (Spencer Shek), setting her story of reinvention in motion. Spencer has a gorgeous, soulful singing voice and every time he was singing on stage I found myself wanting more. Equally talented in the vocal department is Zany Millar, who plays Warner's new stuck-up girlfriend Vivienne. She has a ridiculous vocal range, belting high notes that I didn't even know existed.
Throughout the next few scenes we are introduced to the rest of the main characters. These include Elle's creepy professor Callahan (Calum Armstrong), leading man Emmett (Ross Herbert) and Elle's friend Paulette Bonafonte.
Paulette is played by Jennifer Southern, who not only played the 2nd female lead but was also president of the society and co-choreographer this year. Jennifer puts a great new spin on this character with her lovely Australian accent and was consistently one of the funniest actors in the show. I couldn't possibly talk about Paulette without giving a mention to Chris Beckett, who despite only having a few lines,  gave a memorable and hilarious performance as her southern ex-boyfriend Dewey.
My favourite numbers of the evening came in the second act. The act two opener "Whip Into Shape", performed by fitness instructor Brooke Wyndham (Emily Harkin) and the full Opsoc cast was show-stopping. With full-on choreography, featuring skipping ropes and lots of jumping, it was impressive that Emily and the chorus managed to maintain such a powerful vocal performance.
"Bend and Snap" and "Gay or European" both had the audience in stitches and were choreographed perfectly. These numbers also had the benefit of featuring a lot of singing lines for minor roles, which is something I always love to see in an amateur performance.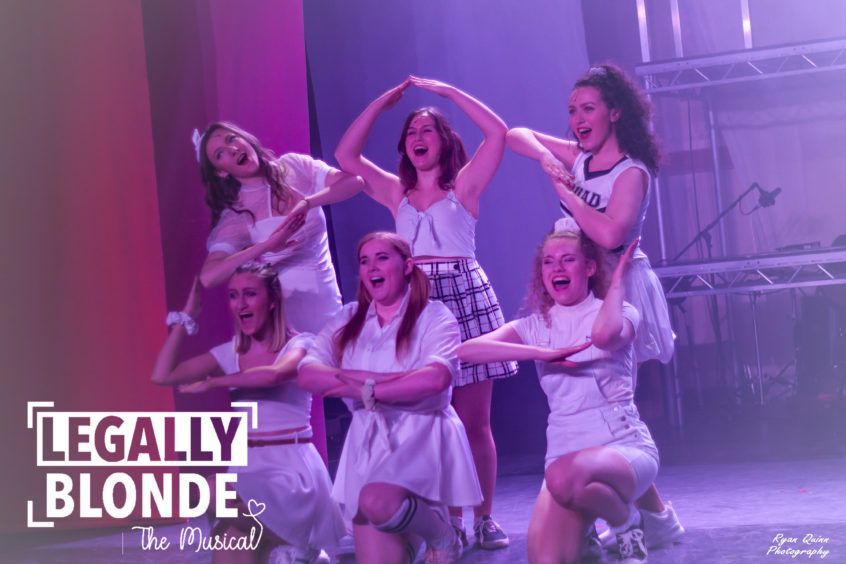 The principle cast were all great but there were also a couple of featured performers whose talent really stood out. Joanna Bremner was fabulous as sorority girl Kate, showing off a smooth, jazzy voice in her solo in act one. Lorcan Dyer and Ruslan Gouleguine also absolutely owned their roles as Nikos and Kyle the UPS Guy (wait for the Irish dancing scene!).
Finally, I should probably mention that there are two actual live dog performers in this show. Elle's dog bruiser, is played by a french bulldog named Hugo – who has played this role on stage a whopping three times! He's joined on stage by the gorgeous Bella, playing Paulette's dog Rufus. It's always risky having live animals in theatre, especially in an amateur performance, but these pups are extremely cute and carry out their on-stage duties without fault.
If you're looking for something to do with your evening, I would absolutely recommend going to see Legally Blonde. Although, if you do want tickets you had better be quick – as Opsoc's weekend performances almost always sell out.
Legally Blonde The Musical by Dundee Opsoc is playing at 7:30pm from the 11th-14th March at the Bonar Hall. You can pick up tickets here or on the door.