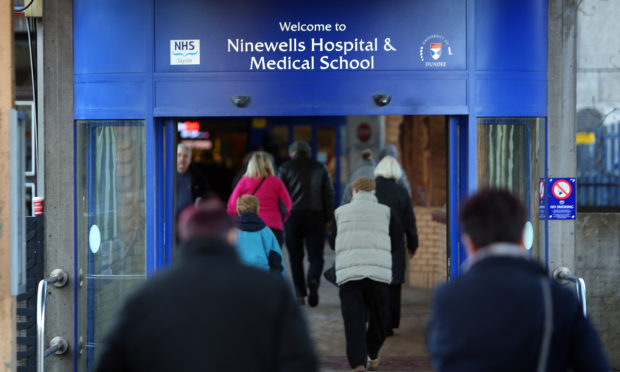 Expectant mothers across Tayside will be asked to travel to Dundee to give birth after midwife-led units across the region were closed to protect staff resources.
Women in Dundee, Angus, Perth and Kinross will now give birth at Ninewells Hospital, either in the midwifery unit or labour suite.
Labour and birthing at community maternity units in Perth Royal Infirmary and Arbroath Infirmary will no longer be available and those who were planning home births and are due soon will also be expected to attend Ninewells.
NHS Tayside stressed the decision was made "as it has become increasingly difficult to staff the three-site community maternity model of care at this challenging time for health services across the country".
Lead midwife Lesley Sharkey said: "We understand that women and families will have many questions regarding the place of birth choice being altered and we want to reassure them that they will be warmly welcomed into our Dundee midwifery unit at Ninewells by the team of midwives.
"Midwives who would normally work within the community maternity units at PRI and Arbroath Infirmary will now be available in the Dundee maternity unit.
"This will allow us to support all Tayside women in labour whilst also prioritising the key antenatal and postnatal contacts to keep women and their babies safe and healthy at this time.
"This temporary change to community maternity services is being reviewed on a regular basis and when we are able to re-introduce these community maternity services at Perth and Arbroath, midwives will contact women to let them know.
"We understand this is a worrying time for people who are expecting or have recently had their baby and we would encourage women and their families if they have any further questions regarding these changes please do not hesitate to contact your midwife."
Meanwhile, changes to dental services mean Kings Cross Health and Community Care Centre, Dundee Dental Hospital, Springfield Medical Centre and Broxden Dental Centre will now be providing emergency care only.
Patients have been urged not to attend any of the centres unless they have an appointment and to call 01382 635774 in hours or NHS 24 on 111 in the evenings and at weekends if they require urgent dental care.
Callers will be triaged by phone and those suspected or confirmed as having Covid-19 will be referred to Kings Cross for treatment. Those without will be referred to Dundee Dental Hospital, Springfield or Broxden.