VIDEO: Pubs boarded up as streets of Dundee and St Andrews left deserted due to coronavirus lockdown
The streets of Tayside and Fife have been left deserted, with pubs boarded up, after Scotland was placed in lockdown due to the coronavirus pandemic.
The Courier's photographers Mhairi Edwards, Kim Cessford, Gareth Jennings and Dougie Nicolson captured images of the streets of Dundee and St Andrews devoid of people as the covid-19 outbreak worsens across the country.
Health experts think as many as 50,000 people across Scotland could now be infected with the disease – which has killed 25 people across the country and left 57 in intensive care.
The latest figures show there are 894 confirmed cases of covid-19 in the country – 76 of them in Tayside and 40 in Fife.
VIDEO: Police in Perth city centre tell 'coronavirus victim': 'You're killing people. Go home'
From Monday, Scots were told only to leave their properties for vital shopping, a daily exercise, to provide medical care, or for travel to and from essential work.
'Up to 50,000 infected' as Scots face fines or prosecution for breaching lockdown rules 'from today'
And on Thursday Nicola Sturgeon said new regulations giving police the ability to fine or prosecute people found leaving their homes for anything other than a "reasonable purpose" would shortly be in effect.
The First Minister added: "Police will continue to take a soft approach to enforcement but they will have the power to act if that is deemed necessary."
She said the rules were "unusual and out of character" but will come with "very important safeguards".
The regulations will be reviewed every 21 days with the legislation lasting for a maximum of just six months.
Ms Sturgeon added: "We will act to remove these restrictions as soon as it is safe to do so."
The latest on the coronavirus outbreak can be found on our liveblog.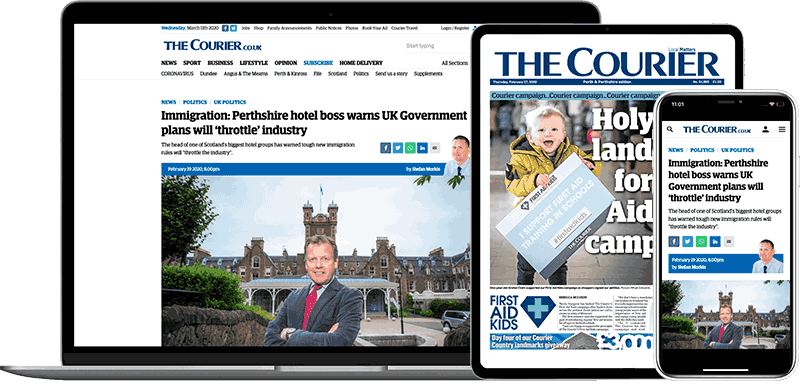 Help support quality local journalism … become a digital subscriber to The Courier
For as little as £5.99 a month you can access all of our content, including Premium articles.
Subscribe