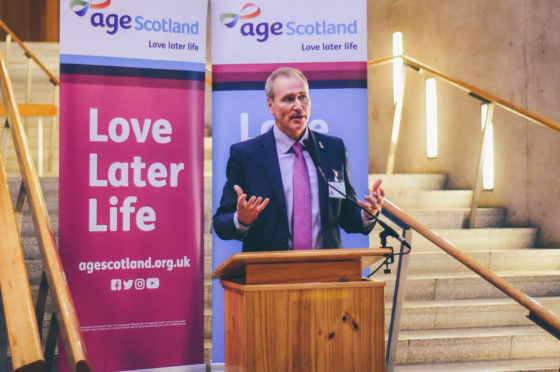 Elderly people are being pushed into waiving their right to CPR as health services fight the coronavirus pandemic, charity bosses have claimed.
Leaders of seven charities including Age Scotland said elderly and vulnerable people were being treated in a "shameful" manner and made to feel their lives do not matter.
It comes after The Courier revealed the case of an elderly Dundee woman, who was sent a 'do not attempt CPR' order after a phone call from her GP practice.
Her family have welcomed the intervention of the charities, which have joined forces to condemn "blanket decisions" on care.
Helen Wray claimed the manner in which her mother was dealt was "unethical".
She said: "These are challenging times and we do not deny that many difficult decisions will have to be made by many families.
"However, we are talking about individuals who have survived far worse in their lifetimes; they are entitled to a more sensitive and dignified approach than that made in our mother's case which was a telephone call from a stranger."
The charities – including Age UK, Age Cymru, Age Northern Ireland and Scottish Care – said they had seen "shocking examples" where blanket decisions seem to have been made about care and treatment options for older and vulnerable people.
They said: "Alongside this, many of the people affected have experienced fear and anxiety, and feel that their lives and wishes do not matter.
"We do not underestimate the significant pressures being faced by all staff working across our health and social care sectors at this difficult time, but it is crucial that we continue to protect people's fundamental human rights.
"It would be completely unacceptable to abandon these rights in favour of taking blanket, discriminatory decisions."
The charity bosses said governments and health services across the UK must carefully consider how they can provide stronger leadership to ensure people's rights are upheld and communication handled more sensitively.
Brian Sloan, chief executive of Age Scotland, said: "We have heard of a number of very worrying examples from across Scotland, where older people have felt pressurised into signing forms saying they do not wish CPR to be attempted.
"In many cases, the  language used by GP surgeries has caused a lot of alarm and anxiety to older people and their families.
"These decisions should always be made by an individual, who might wish to have a sensitive discussion with their loved ones and health professionals.
"At this difficult time, we must make sure that all older people know they have a right to medical care, and no one is made to feel their lives do not have value or they are a burden on others."
NHS Tayside said it had not changed its guidance on DNACPR forms during the Covid-19 outbreak when the case of Helen Wray's mother came to light.
A Scottish Government spokeswoman said: "Conversations around cardiopulmonary resuscitation can be very difficult for all concerned.
"Any decisions around CPR are the result of discussions between patient and healthcare team, with the wishes of the patient being a primary factor.
"However, in the instances where healthcare teams are sure that CPR will not work for the patient then they can decide in advance that it should not be tried.
"That decision is made on a case-by-case basis. This was the situation before Covid-19 and remains the position now.
"Frontline staff are risking their lives every day to provide an invaluable service in challenging circumstances.
"However the Scottish Government is unaware of any evidence of a causal relationship between the health service's handling of the coronavirus crisis and an increase, or perceived increase in cases where the decision is not to resuscitate.
"As the Cabinet Secretary has made clear, every citizen in Scotland matters and everyone deserves to be treated with respect and have their rights honoured."