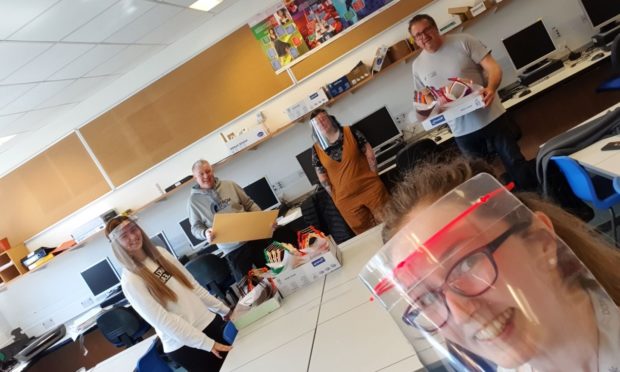 Dundee schools have joined forces to produce hundreds of visors for local care workers.
More than 600 face shields have been created using 3D printers at Grove Academy's design and technology department.
Staff from Harris Academy, Braeview Academy and St John's High School have been assisting with production of the face shields.
Grove Academy's home economics team have also been developing protective equipment for frontline workers. Wash bags, scrub caps, headbands and scrubs are being produced at the school.
Jack Waghorn, Head of Design and Technology at Grove Academy, said: "We had seen all the technical departments across the UK starting to help frontline staff by making equipment so we decided to do something as we had the resources.
"My wife is a nurse in a care home and she had told me that there was very little PPE for them so I felt that we could help.
"We have had a stunning reaction, you're almost hailed as a hero when all you're doing is putting a few masks together but it shows how important they are.
"We started off last Thursday and now we've made over 600 and we look like we're going to do about 200 per day.
However resources are running short for the volunteers and they are urging anyone with 250 micron od A3 laminate pouches to contact the school.