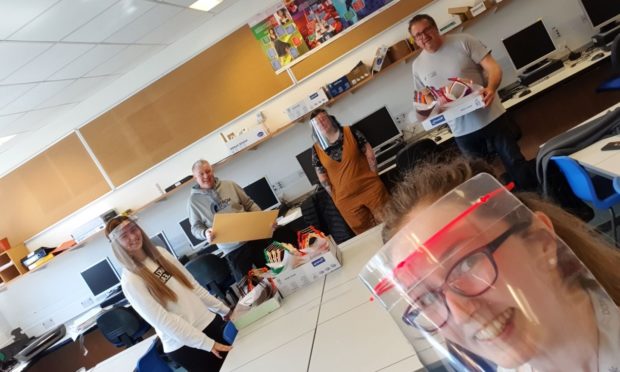 More than 1,000 people have volunteered to help the city tackle the coronavirus pandemic.
Dundee City Council leader John Alexander, SNP, paid tribute to "this city's caring heart" as he outlined how services have changed to meet the ongoing challenge.
He said the local authority had worked with partners to help those worst affected.
He highlighted projects including:
£10,000 a week being spent on bulk food purchases for community food providers.
Secondary schools donating more than 1,000 pairs of goggles to frontline health staff, while staff and pupils at Grove Academy have used 3D printers  to produce more than 500 visors.
A free contactless delivery service of sanitary products.
Payments to replace free school meals for more than 5,000 families at a cost of over £1 million.
Delivery of hot meals to vulnerable families.
At least 350 people contacting the authority's Covid-19 helpline.
More than 500 businesses across Dundee receiving more than £6m from the Coronavirus Business Support Fund.
Mr Alexander said: "The response of the people of Dundee to this crisis is nothing short of magnificent.
"The city council and its partners are delivering services in the face of unprecedented challenges and I would like to thank everyone who is making a contribution.
"We have mobilised this city's caring heart and I can see how this is making a real difference every day.
"There are many challenges ahead, but I am optimistic that our strength and resilience will ensure that we can continue to provide assistance to those who need it.
"This effort is showing us the best of Dundee."
Eric Knox, chief executive of Dundee Volunteer and Voluntary Action said the city's response to the crisis has been exceptional.
"I have never seen as many volunteers coming forward to help other people. We have had the same number in a few weeks as we get in a full year.
"I would ask them to bear with us we will get back to you I think the need for volunteers will go on long past the end of any lockdown," he added.