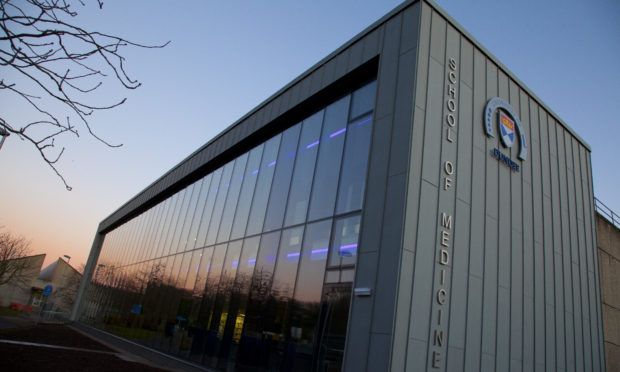 Researchers from Dundee University are leading a trial of new medication to prevent lung damage, which could be used to treat coronavirus.
It is hoped the drug will reduce inflammation of the lungs, making it easier for patients to breathe unassisted and reducing the need for ventilators, in what has been described as the "most urgent need" the medical community has faced.
The university's school of medicine researchers have teamed up with global pharmaceutical company Insmed Incorporated to trial the drug, called brensocatib, which will be tested at Ninewells Hospital in Dundee.
While covid-19 is caused by a viral infection, research has shown the human body's lungs can inflame in an effort to clear the virus, causing organ damage and breathing to stop in some cases.
If successful, the drug would reduce the need for ventilation, meaning patients need fewer days in hospital dependent on oxygen, reducing the strain on the NHS.
The research, called STOP-COVID19, is one of a number of studies into the disease to have been given urgent public health research status by the Department of Health and Social Care. It is also the first Scottish-led drug trial in covid-19 to take place.
The trial is being led by James Chalmers,  professor of respiratory research at the university and a consultant respiratory physician at Ninewells.
He said: "High rates of patients requiring ventilation and overwhelming intensive care unit capacity has been a major cause of excess deaths around the world and we hope that brensocatib can put a brake on the devastation this disease causes, to literally stop covid-19 when it begins attacking the lungs.
"The medical community has never faced a more urgent need for treatment than the unprecedented situation we face today. Our researchers at the University of Dundee have been studying this kind of lung inflammation for more than 10 years and so are in the perfect position to rapidly intervene in patients to try to prevent the worst outcomes of covid-19.
"It is my hope that it will have applicability in patients at risk of acute respiratory distress, a devastating outcome of  covid-19 for which there are currently no approved therapies."
Trials conducted already have shown the drug reduces inflammation in the lungs of people with underlying  conditions and it is hoped that it will have a similarly beneficial effect in those suffering from coronavirus.
Three hundred volunteers are to be recruited from 10 hospitals across the UK from next month, offering patients the chance to take part in the trial.
Half of the group will receive brensocatib in addition to standard hospital care, while the other half will receive a placebo.
Study investigator and NHS Tayside director, Professor Jacob George, said: "This is the first Scottish-led drug trial into covid-19 and it has been prioritised and designated as an urgent public health study.
"Tayside can be justifiably proud of this and we look forward to collaborating with other NHS boards in Scotland to recruit eligible patients onto the trial."