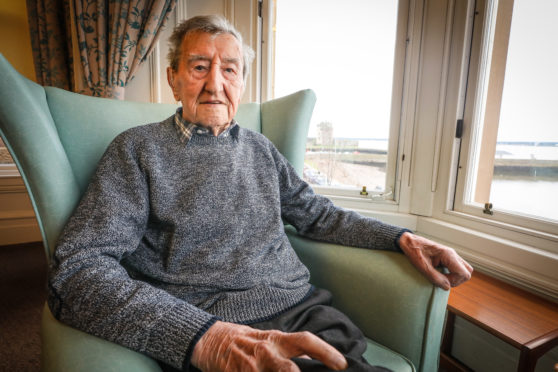 Residents of Orchar Nursing Home in Broughty Ferry are planning an indoor "street party" to celebrate the 75th anniversary of VE Day on May 8. Here, several of them share their memories of VE Day with The Courier…
Bill Watson was on War Nizam, a Merchant Navy tanker which was anchored in the middle of the River Forth when they heard about VE Day.
They were relieved to hear it was all over. Bill went on shore leave but he wasn't involved in any parties.
As far as he remembers, the Germans from the destroyers became prisoners of war then the ships got refuelled and the British sailors boarded in order to be shipped out to the Far East because we were still at war with Japan.
Bill's wife Nessie was 15-years-old on VE Day. She remembers dancing around and celebrating in Fisher Street in Broughty Ferry.
Margaret MacDonald clearly remembers being a student nurse in Burghmuir Hospital in Perth, which was a fever hospital where they treated diphtheria, scarlet fever, meningitis and TB.
She had passed all her exams and was training to be a nurse.
When they heard that the war was over, the students shouted "We're free" and asked if they could go out to celebrate.
When they were given permission, their books were thrown aside and they went into the centre of Perth.
They didn't have money to go into the hotels so they just formed a circle and started singing all the Scottish songs. She said there was great excitement.
Chic Kennedy was a baker during the war – he worked for Andrew G. Kidd's who arranged for Chic to be allowed to forego conscription, and stay at home because he was the only person left in the bakehouse.
He remembers being at a street party in Watt Street – which was a cul-de-sac in the Hawkhill area. He said the neighbours all put tables out in the streets and everyone made cakes and brought them out.
He remembers the great party atmosphere with everyone singing and dancing.
Wilma Baker remembers being evacuated to her grandparents' farm when war was announced.
People in the area were to take in children from Glasgow, but of course they decided to take their own grandchildren instead.
Wilma said she wrote home once a week and remembers telling her mum she was fine but was "fed up eating chicken and eggs".
At the time, she didn't realise how lucky she was! She said she went to the village school and was happy there.
Other neighbours had taken evacuees from Glasgow so the school had to take on another teacher as there was only one teacher in the school at the time.
Wilma also vividly remembers when she eventually went back home to her own house. She used to go shopping for her mum and their neighbour, and she recalled one time she went to the bakers – a train was due in Broughty Ferry so the barriers were closed and she had to go downstairs and through the subway to get across the railway.
There she met two Polish soldiers who were wearing long grey coats and hats and who were very tall (or so it seemed to her at the time).
They clicked their heels when they were passing people as a type of salute. Wilma said she was terrified and ran off like a shot!
Joan Smith was at primary school during the war. First thing every morning the teacher would put a piece of paper below everyone's gas masks and the children had to sniff – if the piece of paper stuck to the mask, it was as it should be, but if the paper didn't stick there was something wrong with the gas mask.
Joan said that at the time she didn't realise the seriousness of the situation and it seemed like a bit of an adventure.
Sometimes she secretly hoped that the sirens would sound so she could run from school to the bank where her father was bank manager.
Her father had told her that they were safe from everything – even if there was a direct hit, they would all be perfectly fine in the "strong room" which was a huge safe built from really thick concrete.
Joan said that when this happened she was always given a glass of lemonade which was a rare treat at that time.
She was told later that the "strong room" held money, important documents and even some of the queen's jewellery which had been brought from Glamis.
A Polish soldier was billeted in Joan's house. She said he was very gifted. He had a little girl about the same age as Joan at home and he used to make delicate 3D paper dolls for Joan as he did for his daughter. She was thrilled because children didn't have many toys at the time – toys were just something you heard about!
Maureen Small remembers being evacuated to Montrose with her mother, brother and sister.
However they only stayed a couple of days because they quickly realised they were all going to be separated.
One lady was very keen to take Maureen's brother but couldn't take the two sisters as well, so in the end they came back to Dundee.
Maureen remembers going to a private house which had been set up as a school at that time.
She doesn't remember much about it but she's pretty sure there was a street party close to where they lived.
Ewen Williamson lived in Pittenweem at the time and was at Waid Academy in Anstruther.
He remembers it was suggested that they should have a bonfire to celebrate VE day but someone pointed out that they'd have to be careful because German subs were "lurching" – of course they meant lurking!
As far as Ewen can remember, the bonfire party did go ahead. He doesn't remember Pittenweem having street parties – perhaps the parties were just held in the big cities.
Jean Lambert said the main thing she remembers is that the mothers of all the local children each took turns at doing school lessons in their houses because some of the teachers were away to war.
At the time the school was being used as an ARP (Air Raid Precautions) post. The ARP wardens enforced the "blackout".
She remembers there were sandbags everywhere in case any bombs were dropped and there were air raid shelters in people's gardens.
She also remembers people having parties in the back greens of the tenements after VE Day.
Sheila Bailey lived in Bradford in Yorkshire when the war ended.
She was 19-years-old at the time and was working in an office in the local hospital.
She and her cousin had decided to cycle to Coniston in the Lake District for a holiday.
It took three days to cycle there, then they stayed at a hostel when they arrived – it cost only £1 for the whole week!
She remembers setting off up a mountain, Helvellyn, one beautiful sunny day. However, her cousin had vertigo when they came to Striding Edge, a narrow rocky path with a steep drop on either side, so they had to come back.
She remembers being with a group from the hostel and having a party in a nearby field. "We were all singing and dancing and I remember being so delighted to see that fairy lights had been put up in the field," she said.
"There had been no outside lights up until then – there were no street lights and even the few cars that were seen on the road had to have their headlights covered and only showed a tiny bit of light. The party music was played on a gramophone and we all danced on very lumpy grass in hiking boots!"
Margaret Robertson was at primary school in Kemnay in Aberdeenshire at the time.
She didn't have to be evacuated because they lived in the country. It was a 3.5 mile walk to go to school and she remembers carrying a gas mask to and from school – it was rubber with a corrugated bit at the front.
She said soldiers lived nearby in tents near Castle Fraser – they were always very friendly when the children passed by – the children were never scared.
Margaret said there was great excitement when the war ended. They had a bonfire near the community hall, and she remembers everyone singing and dancing.
Margaret said her dad William Forsyth had been a blacksmith so he got his job back when he came home from the war.
Another resident who was a child at the time remembers everyone waving Union Jacks on VE Day – either that or they wedged them in their windows.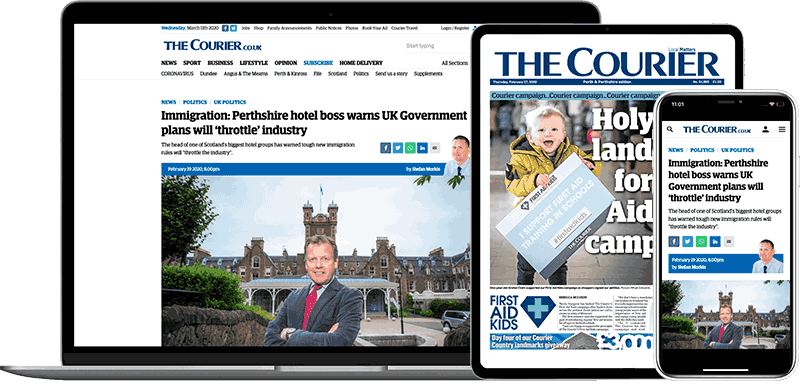 Help support quality local journalism … become a digital subscriber to The Courier
For as little as £5.99 a month you can access all of our content, including Premium articles.
Subscribe