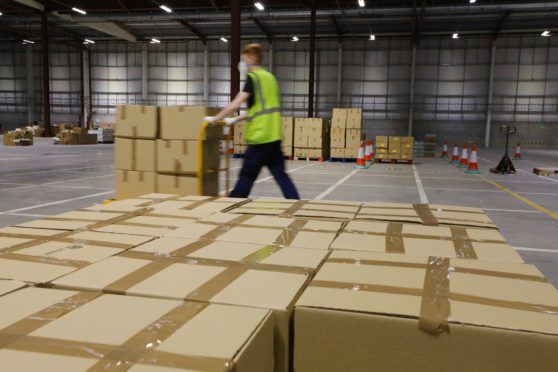 Workers at the axed Michelin factory in Dundee are turning their hands to new skills to help others in need across Tayside.
Food packages and protective equipment are being prepared at the Baldovie plant, which ceased tyre production earlier than anticipated as the global health crisis wreaked havoc on everyday life.
The goods are being taken from the site to the homes of people who are struggling, as well as to hospitals and health centres.
Working with Dundee City Council, the Michelin volunteers receive bulk deliveries of food and essentials and put together packages containing about 20 items.
They are also assembling personal protective equipment (PPE), making face masks, eye googles and other items for health workers.
A drive-through coronavirus testing facility at the nearby Michelin Athletic Club is due to open today.
Factory manager John Reid praised the efforts of his staff.
He said: "They are doing a fantastic job. Covid-19 is tough for everyone but for our guys it's made their difficult situation even worse.
"They're trying to find themselves new jobs and the job market has been impacted significantly. To make the effort in the way that they are is exceptional.
"There are guys there that are just at the point of retirement and some who have been with us for just a few years, so it's quite a mix. They've had to turn their hand at a new skill. Some of them have worked in textiles before, but a lot haven't done anything like this when it comes to making the PPE."
The team spirit between the Michelin workers and the local authority team was celebrated by the wife of one employee, who made a cake topped with icing that depicted a hybrid of the Dundee City Council (DCC) and Michelin logos.
Council leader John Alexander said: "I am impressed by the way agencies and staff are pulling together in Dundee
"Michelin have been extremely supportive and being able to locate our central distribution facility at the site will help provide an effective major logistical operation."
French-firm Michelin confirmed late in 2018 plans to close the site by "mid-2020", costing the city 845 jobs.